Hillary Clinton Holds Her Own in Marathon Testimony Before Benghazi Committee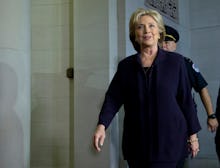 For weeks over the summer, Hillary Clinton's much-anticipated appearance before the House Select Committee on Benghazi had been billed as a high-wire act for the former secretary of state.
Instead, it was a walk in the park.
In hours of testimony on Thursday, Clinton deftly fielded questions about her handling of the 2012 attack on a United States consulate in Libya, which left Ambassador Chris Stevens and three other Americans dead. Republicans on the committee entered the hearing on the defensive, and were careful to avoid the appearance of a political witch hunt. As the day went on, the questions became sharper and members got more impatient. Yet the committee failed to elicit much new substantive information the committee did not already know.
Democrats on the committee fiercely defended Clinton and critiqued the very existence of the committee, with the hearing at one point devolving into a shouting match between GOP and Democratic members. Democratic criticisms allowed Clinton to focus on engaging Republicans on the substance of their questions rather than the propriety of the investigation itself. She was measured and assertive throughout her testimony, at one point sounding a personal note about the attack.
"I've thought more about what happened than all of you put together," she said during the hearing. "I've lost more sleep than all of you put together."
Setting the stage: The opening statements set the tone for the rest of the hearing. 
Rep. Trey Gowdy, a Republican from South Carolina and the chairman of the committee, has been under fire for weeks following Majority Leader Rep. Kevin McCarthy's comments that the committee's goal was to hurt Clinton politically. Gowdy, a former prosecutor, opened the proceedings with a vigorous defense of the committee's work, contesting the notion that his probe is politically motivated.
"I understand that there are people in both parties who have suggested this investigation is about you. Let me assure you it is not," Gowdy said to Clinton. "Not a single member of this committee signed up to investigate you or your email."
In 2014, the Benghazi committee discovered Clinton's exclusive use of a private email server during her time as secretary of state, which has become her biggest political liability. Gowdy insisted that the committee was not focused on Clinton's emails, beyond their interest in collecting documentary evidence about the Benghazi attacks.
"Your emails are no less or no more important than the emails of anyone else," Gowdy said. "It just took us a little bit longer to get them, and it garnered a little more attention in the process."
In her opening statement, Clinton argued previous investigations had identified weaknesses in the State Department's security protocols and prompted her to begin to implement reforms while in office. She also alluded to the political theater surrounding her testimony.
"We need leadership at home to match our leadership abroad, leadership that puts national security ahead of politics and ideology," she said. "Despite all the talk about previous investigations and partisan agendas, I'm here to honor those we lost."
The questions: After 45 minutes of opening statements, the questioning phase of the hearing got under way with Republican Rep. Peter Roskam of Illinois. On two occasions, Roskam made a point of halting his questions to allow Clinton to read notes that were passed to her from her staff:
Clinton laughed and said, "I can do more than one thing at a time."
Throughout the rest of the hearing, Clinton faced questions about security protocols in Libya, threats against State Department personnel, what she knew about the American presence in Benghazi and previous attacks in Benghazi. Republicans on the committee cited numerous emails to and from Clinton in their lines of questioning, inquiring about internal State Department processes and decision-making.
The most contentious moments of the first half of the hearing occurred in the third hour of testimony. Rep. Mike Pompeo, a Republican from Kansas, zeroed in on Clinton's emails, asking why she had received over 150 emails from Sidney Blumenthal, a longtime Clinton ally, while not receiving any from Stevens, the ambassador. Clinton said Stevens did not have her email address and characterized Blumenthal's missives as emails from a friend passing along information.
In a tense back-and-forth, Republican Rep. Jim Jordan of Ohio challenged Clinton's public statements in the aftermath of the attack and asked her to square her public remarks with emails she received at the State Department. Clinton chalked the discrepancy up to conflicting information from the intelligence community.
"I'm sorry it doesn't fit your narrative, Congressman. I can only tell you what the facts were," she said.
Neither lines of questioning were successful in showing that Clinton was willfully misleading or negligent in her response to the Benghazi attacks. Clinton was able to deflect responsibility for initially incorrect assessments of the motivation of the attack, stating the State Department was relying on information from the intelligence community.
Gowdy and the ranking member, Rep. Elijah Cummings, a Maryland Democrat, closed out the early session with a heated exchange over the committee's decision to release emails Cummings believed were meant to damage Clinton, who looked on quietly, in her ongoing presidential campaign.
For nearly five minutes, the two men — seated just inches apart — bickered and sniped at each other, with Gowdy occasionally swiping at Clinton for receiving and disseminating advice from Blumenthal, who had been rejected by the White House in his bid for a formal role.
After the break, Republicans continued to zero in on the degree and manner of contact Clinton had with Stevens, repeatedly asking Clinton if the ambassador had her personal email address. One even inquired as to whether Stevens knew her address. 
But the nastiest words were reserved for committee members, who repeatedly commented on their colleagues' motivations. Rep. Adam Schiff (D-Calif.) insisted over Gowdy's objections that the panel was conducting a "prosecution," while Pompeo lobbed verbal grenades across the aisle.
"They say they want to get to the truth, but the truth of the matter is they spent most of their time today, and you can rewind the tape and find they spent most of the day attacking members of this committee and this process," Pompeo said, with an eye on Rep. Adam Smith, a Pennsylvania Democrat. "I regret that. I think that's a violation of their duty." 
GOP misfires: All in all, Clinton was forceful, assertive and confident throughout both sessions. Prior to McCarthy's comments about the political aims of the committee, she was expected to be on the defensive, facing questions over her email use and the State Department's actions over the aftermath of the Benghazi attacks.
Instead, she stood her ground, pushed back forcefully when challenged and demonstrated an airtight hold on the issues at hand. Her performance should put nervous Democrats at ease.