Gus Kenworthy, Olympic Skier: "I Am Gay"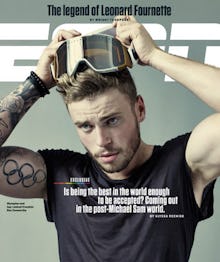 United States Olympic professional skier Gus Kenworthy, who won a silver medal at last year's Winter Olympics in Sochi, Russia, has opened up about his sexuality in a new interview with ESPN the Magazine published Thursday. The 24-year-old athlete told the magazine he's known he was gay since he was 5 years old, but only told his friends and family about it two years ago.
"I never got to be proud of what I did in Sochi because I felt so horrible about what I didn't do," Kenwrothy told ESPN about his performance in the 2014 Olympics, when gay rights protesters targeted the event. Anti-gay rights laws in Russia have often been the subject of increased scrutiny over the years. "I didn't want to come out as the silver medalist from Sochi," Kenworthy told the magazine. "I wanted to come out as the best freeskier in the world."
The ESPN story and Kenworthy's opening up about his sexuality follows a diversifying year for sports in the U.S., with a number of other professional athletes and their coaches sharing with the world their own struggles of coming to terms with their sexuality. Most recently, assistant coach to Bryant University's basketball team Chris Burns told USA Today he's gay, becoming the first out coach in Division I men's basketball. 
Read Kenworthy's exclusive interview with ESPN the Magazine.