Carrie Underwood 'Storyteller' Album: Tracklist, Lyrics and Meaning Behind Latest Music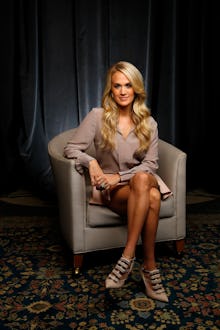 Country-pop crossover artist Carrie Underwood has fans looking forward to the release of her fifth album Storyteller, which drops Friday and that Rolling Stone is calling "the most anticipated country album of the year."
The 13-track record includes Underwood's familiar revenge and heartbreak tracks, but the closing track is a love song reflecting on the newest chapter of her life: marriage and motherhood. "What I Never Knew I Always Wanted," released on Monday, is an ode to her husband and son, E! Online reports. 
"Never was the kind to think about dressing in white," Underwood croons in the song's first verse. "Never pictured myself singing lullabies/ Sitting in a rocking chair in the middle of the night."Genius provides the album's full lyrics. 
Underwood became a mother in February with the birth of her son, Isaiah. Storyteller is Underwood's first album in three years, since the 32-year-old artist released Blown Away in 2012. Rolling Stone's Andrew Leahey said the latest album's music represents in part her new role as a mother. "Underwood is a mother these days," Leahey wrote. "Storyteller often feels like the musical equivalent of story time, shot through with tall tales (and the occasional autobiographical tune) about Wild West women and Bible Belt belles."
Storyteller tracklist: The heartfelt tribute "What I Never Knew I Always Wanted" is one of four Storyteller tracks that were released before the full album becomes available on Friday. The singles "What I Never Knew I Always Wanted," "Renegade Runway," "Heartbeat" and "Smoke Break" are all available for purchase on iTunes and streaming on Spotify. 
Here's the full tracklist: 
1. "Renegade Runway"
2. "Dirty Laundry"
3. "Church Bells"
4. "Heartbeat"
5. "Smoke Break"
6. "Choctaw County Affair"
7. "Like I'll Never Love You Again"
8. "Chaser"
9. "Relapse"
10. "Clock Don't Stop"
11. "The Girl You Think I Am"
12. "Mexico"
13. "What I Never Knew I Always Wanted"
Underwood told the Associated Press on Wednesday that she suffers from "mom guilt," which she defined as trying to find her work-life balance as a new mom. "I think mom guilt is rampant in my life," Underwood told the AP. "I am sure it is in any mom's. ... I still constantly wonder, 'Is this fair to him? Is my life fair to him?'" 
She also disclosed that she was unprepared to write about motherhood when she first started working on the latest album. "I would have writing dates with people and they would come in and push me in that direction," Underwood told the AP. "And I was like, 'Eh, no.' I do not want to write an album of mushy baby songs. Or mommy songs. That is not me."
Underwood performed a stripped acoustic version of "Heartbeat" exclusively for Target on Wednesday: