'You're Killing Me' Is the Gay Horror Comedy Halloween Needs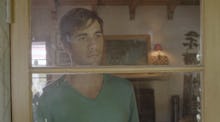 In You're Killing Me, the new gay horror-comedy from director/writer Jim Hansen and writer/star Jeffery Self, murder is flirtatious. Nothing is serious for George (Self) and his friends, so why should confessions of killing be? 
The film, which is making the rounds on this year's festival circuit, features a group of gay men and their friends who never stop performing for one another. Everything's played for a laugh, nothing taken too seriously. So when George starts dating Joe (Matthew McKelligon), he doesn't sweat his new boyfriend's constant talk of murdering his friends to heart. It's just fun, after all. He couldn't possibly be telling the truth.
In crafting what is both a unique take on queer horror and a metaphorical tale for what happens when earnestness meets irony, Self and Hansen have created the perfect gay Halloween movie. How did Self know how to write about these kinds of people? Simple: He is that kind of person.
"We're all performers, we all get together and put on a show for each other," Self said of himself and his close friends. "We're always trying to seek validation, or the laugh. ... With that comes the reality that sometimes, people walk into that and are completely thrown off. 'Who are these horrible people you surround yourself with?'"
In crafting You're Killing Me, the writers were inspired to meld their favored genres together. Self's love of romantic comedies and Hansen's love of horror were a match made in hell. They filled the cast with the aforementioned friends — most previous collaborators like Bryan Safi and Sam Pancake. The final result is a highly individual product. While there are plenty of queer horror movies, none feel as specific to a particular type of character: that of the performative gay man in 2015.
"We would go on vacation every New Year's as a group," Self explained. "The last time we'd done it, we had the idea of, 'Imagine if they made a movie about this group of people actually having to deal with something real.' Something as real as murder."
You're Killing Me is not for the faint of heart. It's a bloody, graphic film — yet, what's most disturbing for exactly how plausible such a ridiculous scenario is. In a time of "drowning in irony," as Self puts it, the idea of being oblivious to truth is a flip on what deceit actually is. 
George and his friends aren't being lied to by Joe. Throughout the film, he constantly says exactly what he thinks of others, even planning to kill them. It's George and his friends that are actually deceiving themselves.
"He's actually, if you think about it, the best person in the movie, morally," Self said of Joe. "He's actually listening to people, telling the truth, being honest. He's in the world of all these other people who are self-obsessed and narcissistic and glued to their phones."
In big-budget horror movies, scares and jumps are the trend du jour. Rarely does something more original — like The Babadook, or It Follows — break out. You're Killing Me should be that unique movie for Halloween this year. It may be unusual, yes, and it's quite specific to a particular kind of people. Yet that individual vision makes You're Killing Me all the more worth seeking out.
You're Killing Me is playing NewFest in New York City this weekend. Visit the film's Facebook and Twitter pages to learn more about it and screenings in other cities. 
Watch the film's trailer below: