Joanna Newsom's 'Divers' Album Is Here. Here's How to Download, Stream and Get Full Lyrics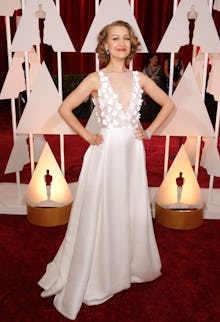 Divers, the fourth studio album from American musician and actress Joanna Newsom, is scheduled for release on Friday. The 33-year-old folk singer began releasing music in 2004 and has since built a devoted fan base, thanks in part to her distinctive vocalizing, poetic lyricism and distinguishing ability on the harp. Divers follows Newsom's third LP, Have One on Me, which was released in 2010. 
Ahead of Friday's release, Divers is streaming in full on NPR First Listen. Three tracks from the record have been released in the lead-up to the album's debut — "Leaving the City," "Sapokanikan" and "Divers," the record's title track. In August, Newsom released an aesthetically simple yet vocally lush music video for "Sapokanikan," a track named for a Lenape village that existed on the island of Manhattan and predated European arrival to the continent.
Download details and lyrics: Divers is available for preorder via Newsom's record label, Drag City. The album is available in vinyl ($28), as a cassette ($8) or in CD form ($12). Divers can be purchased for download for $9.99. 
As an artist, Newsom does not shy away from poetry when penning her lyrics. "'When are you from?' said he/ In our blind of winter leaves," Newsom sings on "Anecdotes," Divers' opening track. "As we sighted out their fliers/ In the grayscale of the night/ And fumbled on the bare ground/ To bury round landmines/ While the dew lay down and dried." 
The musician, who is married to American actor and comedian Andy Samberg, waxes poetic all throughout the album, though on the record's title track, it's personal.
"The diver is my love," she sings. "And I am his/ if I am not deceived/ Who takes one breath above for every hour below the sea/ Who gave to me a jewel/ Worth twice this woman's life, though it cost her less/ Than laying at low tide to see her true love phosphoresce."
Divers tracklist:
1. "Anecdotes" 
2. "Sapokanikan" 
3. "Leaving the City" 
4. "Goose Eggs" 
5. "Waltz of the 101st Lightborne" 
6. "The Things I Say" 
7. "Divers" 
8. "Same Old Man" 
9. "You Will Not Take My Heart Alive" 
10. "A Pin-Light Bent" 
11. "Time, As a Symptom"