Emmeline Pankhurst: the Women's Rights Leader Behind Meryl Streep's 'Suffragette' Role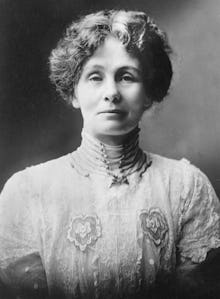 Suffragette, based on the British early feminist movement, hits theaters across the United States Friday and stars Meryl Streep. The actress's upcoming role will shed new light on the progression of women's rights in early 20th-century Great Britain and the woman at the center of it all: Emmeline Pankhurst. 
Pankhurst joined the women's suffrage movement in 1880, according to the U.K. Parliament's website. Her reputation grew, eventually allowing Pankhurst to found the Women's Social and Political Union, with its members known as suffragettes, in 1903. She led the union in its effort to establish suffrage for women in Great Britain. 
Pankhurst led the organization with an iron fist, with many historians citing the leader as an integral member of the suffragette movement.
Under her authority, WSPU went by a simple slogan: "Deeds not words." The group wanted more action out of the British Parliament. In her tenure as the suffragettes' leader — the group ultimately dissolved in 1918, when Parliament granted limited suffrage to women — Pankhurst was arrested several times, along with her daughters who were also members of the group, Biography reports. One of her daughters described how she, along with several other of the organization's members, was jailed and force-fed when she refused to eat prison meals in protest of being held captive.
Pankhurst ran for a seat in Parliament but lost before passing away at 69 years old, according to Biography. However, her work was an instrumental factor in shaping women's rights throughout the U.K. and still influences culture today, from modern women's rights movements to film.