"Satisfied" Lyrics: Reviews and Meaning Behind 'Hamilton' Musical Song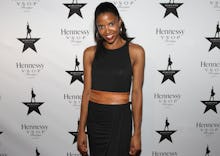 If the story of founding father Alexander Hamilton was taught in school the way it is in the new Broadway musical Hamilton, through smooth rap riffs and hip-hop beats, students would crave the lesson. The show's soundtrack, a showtunes-and-hip-hop hybrid, has been praised by critics — and the song "Satisfied," rapped by the character Angelica Schuyler Church, played by Renée Elise Goldsberry, is one of the most popular.
Through "Satisfied," Angelica recalls the first time she saw Hamilton's face, reflecting on what might have been if she had gone for him instead of introducing him to her sister, played by Phillipa Soo, who's marrying Hamilton during the song.
"As I romanticize what might ave been if I hadn't sized him up so quickly," Angelica sings. "At least my dear Eliza's his wife, at least I keep his eyes in my life."
The show's writer and star, Lin-Manuel Miranda, who plays leading man Hamilton, received particular praise for the dynamic track. "Act One stunner 'Satisfied' might be Miranda's finest moment," Rolling Stone's Brittany Spanos wrote in her review of the soundtrack. "Costar Renée Elise Goldsberry [dips] in and out of Nicki Minaj-style rhymes and Bernadette Peters vocal runs in a heartbreaking performance as Hamilton's sister-in-law Angelica Schuyler."
Miranda revealed a direct connection between the song's lyrics and the real 1790 letter Angelica Schuyler sent to Hamilton:
Genius provides the full lyrics for "Satisfied" and the rest of the soundtrack.
The entire show is narrated through the soundtrack, and critics don't think it's a bad thing. "Listening-only is how Hamilton will be experienced by most people," NPR's Frannie Kelly wrote. "Miranda has certainly made it easy — there's no line of dialogue said onstage that isn't on the tracks."
"Miranda's music and lyrics smoothly fuse '90s hip-hop, girl-group R&B, British Invasion pop and more into classic theatrical forms," Spanos wrote in Rolling Stone.
Hamilton star Daveed Diggs told Mic in August that the show's rap riffs are what got him hooked on the opportunity. "I was mostly impressed by how much the raps get up," he said then. "Like, out of any context of any musical theater, there was some really impressive rapping happening in the piece. I was hooked from that. I was just like, 'What do you need me to learn? Do I need to learn how to sing? I'll learn how to sing for you.'"