Plus-Size Model Robyn Lawley Has an Inspiring Message About Criticizing Women's Bodies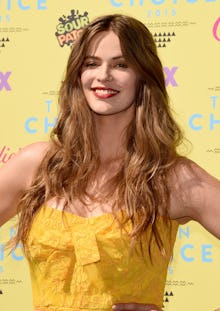 Tabloids routinely write horrible things about celebrities — especially famous women and their bodies. Plus-size model Robyn Lawley is certainly no stranger to this treatment, and even faced a particularly horrendous claim last year that she had an abortion in order to avoid stretch marks. However, Lawley refuses to remain silent any longer: The model not only set her personal record straight but advocated on Thursday for all women's autonomy over their bodies in an inspiring Facebook post.
The article. Lawley appears to be referring to a tabloid piece written in response to a 2014 Cosmopolitan interview in which she stated both that she had considered an abortion and that she was "worried about" stretch marks. She was pregnant at the time. 
"Post-baby, I want to be able to get back to work pretty quickly, and my worry is that if I do get them, they'll take time to fade to white from red," Cosmopolitan reported she said. "As a lingerie model, that's not ideal."
She also admitted that she called an abortion provider before ultimately deciding that she wanted to continue with her pregnancy. 
"When you're actually confronted with the possibility of an abortion, it's an immensely hard decision," she said.
While the tabloid piece in question was pulled, it had "over 500 or more very abusive comments," and caused the model "a huge amount of stress," she wrote on Facebook. 
Her response: This type of scrutiny is rooted in a problem much deeper than this single incident, she noted.
"We put an unbelievable amount of ridiculous time consuming pressure on women to care so much about their flaws they forget how truly beautiful they (you) are today," Lawley wrote. "To anyone who feels bad about your body especially after a baby, you are a warrior, you created a life inside of you, that's no easy feat."
To emphasize her point, the model decided to publicly embrace her own stretch marks at the heart of this controversy, posting a photo of her naked torso alongside the post.
"I knew they were coming and as they're fading into white (like all my others) I thought I might capture them," she wrote. "Because they are some bad ass #tigerstripes. And I earned them."
Lawley said the fact that a tabloid went as far as to argue that these marks were grounds for a decision as serious as abortion was out of bounds. Rather than perpetuate an idea that one would choose to have an abortion based on her appearance, she continued, the media would do better to focus on women who are unable to "access an abortion because of state laws." 
Lawley certainly has a point: Far too many women in the United States and beyond lack access to abortion. Although 1 in 3 women in the United States will have an abortion in their lifetime, close to 300 abortion bans have been passed since 2010, according to the Guttmacher Institute. These bans have been passed despite the fact that a recent study showed that access to abortion actually lowers rates of the procedure.
Ultimately, however, our culture must move beyond equating women's value with their bodies in the first place, she concluded.
"F**k them, who cares, be you, be loud, be proud," Lawley wrote. "And put your efforts into skills that rely more on your physical self."