'Suffragette' Movie 2015: Plot, Reviews, Cast and How to Buy Tickets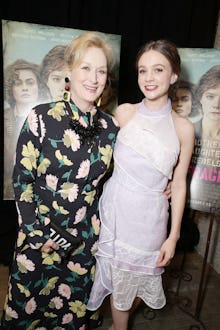 Suffragette, a critically acclaimed Focus Features film that depicts the early stages of women's suffrage in England, hits United States theaters on Friday. Set in London in the years leading up to England's 1918 declaration of suffrage for women, the film is a historical drama and portrays the saga of one woman's part in the landmark battle for the right to vote. 
The film stars Carey Mulligan as Maud Watts, a working-class woman on the front lines of England's suffrage protests. Ann Marie Duff plays Violet Miller, Maud's friend and co-worker at a laundry facility. Meryl Streep plays Emmeline Pankhurst, who helped found the Women's Social and Political Union, a key organization behind advancing England's women's rights movement. 
Sarah Gavron — who is best known for directing the films Brick Lane, released in 2007, and This Little Life, released in 2003 — directed the historical drama, which was originally written by Abi Morgan, a screenwriter and producer behind the films Shame and The Iron Lady, which were both released in 2011, according to Internet Movie Database.
Speaking to the New York Times, Gavron said Suffragette's story line had been on her to-do list for a decade.
"No one had told this story before on the screen," Gavron told the New York Times. "We found our champions in some people who supported it. And we settled on telling it through the perspective of the working woman. We thought that was a way to connect it up with the modern world and 21st-century issues. Uncannily, it felt timely."
The cast of the film came up against a bit of controversy in early October. Several of the actors sported shirts on social media bearing the slogan, "I'd rather be a rebel than a slave," to promote the film. Although the line is an authentic quote from a speech that activist Pankhurst gave at a 1913 rally in London, some called the tie-in to slavery offensive. 
Mulligan faced those accusations head on in an interview with Entertainment Tonight on Oct. 13. The actress praised the fact that the controversy sparked a dialogue about women's equality. 
"I think one of the reasons you make a film like this is to spark conversations, and you know, obviously there's sensitivities around that and and that's unfortunate and never intended," Mulligan told Entertainment Tonight. "But I think the discourse is great and that's something we should encourage and not try to curve.
Mulligan also said that the debacle need not detract from the film's core goal. "It would be a shame if that kind of muddied the narrative of what the film is about, which is essentially about empowering women and empowering people," Mulligan told Entertainment Tonight.
The reviews are in: Viewer feedback on the film has been largely positive. Per user reviews, the film scored 6.5 out of a possible 10 on Internet Movie Database and 79% out of 100% on Rotten Tomatoes at time of writing. 
Despite that feedback, Vanity Fair columnist Richard Lawson points out one potential pitfall of the historical drama. "Sometimes a movie is so polite, so upstanding and solidly well-intentioned, that it's hard to criticize it, or like it," Lawson wrote in Vanity Fair. "Not a bad movie — a perfectly fine movie — but one so safely made, so engineered to swell and stir the hearts of audiences (or Academy voters) that it forgets to have any real point of view."
Elsewhere, the Guardian's film critic Peter Bradshaw called the film a "forthright, heartfelt, red-blooded drama."
"Suffragette is a tart reminder to those who are casual about democratic gender equality that votes for women were not something that naturally evolved due to the ruling class's innate decency; they had to be fought for," Bradshaw wrote in the Guardian.
The film is playing at most major cinema complexes and tickets can be purchased at multiple outlets, including a ticket aggregator such as Fandago.