Gov. Andrew Cuomo to Announce Executive Action to Protect Transgender New Yorkers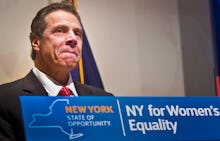 New York Gov. Andrew Cuomo is expected to announce Thursday his office will take executive action to protect transgender people from discrimination in his state, a move that would put New York among a minority of states that bar discrimination in housing and employment based on gender identity. Cuomo is slated to make the announcement at a dinner event organized by gay rights advocacy group Empire State Pride Agenda, the New York Times reports. 
Twenty-two states have adopted measures to protect gay people from discrimination in housing, according to Human Rights Campaign, a Washington, D.C.-based advocacy group focused on gay rights (state laws regarding discrimination in employment are a bit more nuanced). Of those 22 states, 19 include gender identity as a protected clause in housing. 
Here are the states with housing protections for people based on sexual orientation and gender identity: 
States in green prohibit housing discrimination based on sexual orientation and gender identity. States in yellow prohibit housing discrimination based on sexual orientation only.
Source: Human Rights Campaign
Efforts to get protections for transgender people in New York, which prohibits housing discrimination based on sexual orientation only, through the state legislature have previously failed, according to the New York Times. Transgender advocates praised the upcoming announcement as a win for the New York transgender community.
"This is a step forward for transgender rights," said Mara Keisling, executive director for the National Center for Transgender Equality, in an emailed statement. "Gov. Cuomo is the first governor to exercise this power, and while we are anxious to see the draft rules, we fully support this approach given the current lack of clear legal protections for transgender people under New York law."
Currently, there is no statewide law in New York to combat transgender discrimination. However, 11 cities have adopted some form of formal policy to outlaw discrimination based on gender identity. In addition to New York City, those towns include Albany, Binghamton, Buffalo, Ithaca, Rochester, Syracuse, Albany, Suffolk, Tompkins and Westchester, per Politico New York.