J.K. Rowling Finally Reveals Details of Her Upcoming Potter Play — And It's a Sequel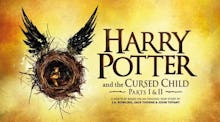 J.K. Rowling and the producers of her Harry Potter play revealed some of the show's highly coveted details in a Daily Mail interview — chiefly, the premise of the play. 
Harry Potter and the Cursed Child, Parts I & II, to debut on July 30 at London's West End Palace Theatre, will be the continuation of the final book's epilogue. "It's safe to say that The Cursed Child picks up from where The Deathly Hallows ended," Sonia Friedman, one of the play's producers, told the Daily Mail on Thursday. 
The show's protagonist will be none other than Harry Potter's son, 11-year-old Albus Severus, also known as "Al," who is about to embark on his first year at Hogwarts. Al is anxious over the possibility of being assigned to the Slytherin house, but father Potter reassures the young lad this fate would be manageable as, after all, one of his namesakes is none other than Severus Snape, the infamous former Slytherin. 
As Al grapples with the burden of the Potter name legacy, the "past and present fuse ominously" as the father and son duo learn "sometimes, darkness comes from unexpected places," according to a synopsis published on Pottermore:
"It was always difficult being Harry Potter, and it isn't much easier now that he is an overworked employee of the Ministry of Magic, a husband and father of three school-age children. While Harry grapples with a past that refuses to stay where it belongs, his youngest son Albus must struggle with the weight of a family legacy he never wanted. As past and present fuse ominously, both father and son learn the uncomfortable truth: Sometimes, darkness comes from unexpected places."
The newly unveiled poster is emblazoned with a tagline: "The eighth story. Nineteen years later." The play will be performed in two parts and, three days a week, can be watched consecutively. 
Naturally, Harry Potter fans exploded, along with their social media accounts. Suffice it to say, there was LOTS OF CAPS LOCK.
The team was tightlipped when it came to divulging much more. "We don't want to spoil it for the audiences," Colin Callender, the show's other producer, said to the Daily Mail. "It's for theatergoers and fans, and we're not going to say any more about the story," Friedman added in the interview. 
However, Friedman did say the plot would rely more on "raw theater" and less on flying child actors. "Because it's a play, it's worth stressing that at this stage of the process it's not our intention to have a high-tech show, but to go back to basic story telling," she said to the Daily Mail.
But that's not to say there won't be any magic at all. An illusionist and people who specialize in special effects were employed to help develop the show. "We very much hope to deliver magic — but in our unique way," Friedman explained to the Daily Mail. 
In an unusual twist, the makers of the play are ensuring it is accessible by guaranteeing a certain number of tickets for every performance will be sold for 15 pounds ($23) or 10 pounds ($15) during previews. Tickets to see the two shows consecutively will run as high as 165 pounds ($253).
Those who registered well in advance for priority tickets can purchase them online — including for the previews, which begin in June — starting Oct. 28, while the general public can start the refresh-button war on Oct. 30. 
Oct. 23, 2015, 10:53 a.m.: This story has been updated.