Hurricane Patricia 2015: Tracking Forecast and Storm Path for Strongest Storm on Record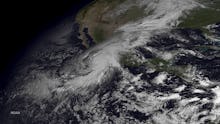 Mexico is bracing for Hurricane Patricia, the Category 5 storm and most powerful tropical cyclone on record to ever hit the Western Hemisphere, which is expected to make landfall on the coast of Southwestern Mexico as Friday evening, theWeather Channel reports. The National Hurricane Center described the storm as "potentially catastrophic" and capable of causing widespread destruction, flash flooding and waves up to 40 feet high. 
At 4 p.m. Central, Hurricane Patricia's was centered just 60 miles from Manzanillo, Mexico, the Weather Channel reports. Residents in Manzanillo and other coastal states were preparing for the worst, including boarding up their businesses and homes, shuttering beachfront resorts and issuing widespread evacuations. 
The storm showed "no signs of weakening" as it approached land, according to meteorologist Ryan Maue.
At 5 a.m. Pacific, the eye of the storm was roughly 145 miles off the coast of Manzanillo, Mexico, with maximum sustained winds of a record-breaking 200 mph, per the National Hurricane Center report. The storm was headed northwest at 12 mph and is expected to start heading east towards Mexico's coast by the afternoon, triggering large waves along the coast. Patricia will likely remain a Category 5 when it hits land. 
National Hurricane Center expert Eric Blake tweeted that he's never seen a hurricane with 200 mph winds in the modern satellite era:
Coastal communities on high alert: A hurricane warning is currently in effect for the Pacific coast of Mexico from San Blas to Punta San Telmo, the Weather Channel reports, which includes the popular resort destination cities Puerta Vallarta and Manzanillo. Those areas should see hurricane conditions by Friday afternoon, as tropical storm conditions have already been reported across the region, the National Hurricane Center reports. This includes evacuating from low-rise coastal areas. Those in the area to are urged to complete protecting their life and property as the storm rapidly makes its approach.
Rogelio Estreda, a spokesman for the Grand Fiesta Americana Resort in Puerto Vallarta, told NBC News that the resort would be evacuated at 7 a.m. local time. "We are expecting something bad, but maybe nothing will happen," Estreda told NBC. "It can change at any time."
A hurricane watch is in effect east of Punta San Telmo to Lazaro Cardenas and a tropical storm warning is also in effect from east of Punta San Telmo to Lazaro Cardenas, according to the Weather Channel. 
The affected areas should experience anywhere from 8 to 12 inches of accumulated rainfall, with some isolated warning areas throughout the states of Nayarit, Jalisco, Colima, Michoacan and Guerrero seeing up to 20 inches. Rainfall is expected to continue through Saturday, the National Hurricane Center reports, causing potential flash-floods and mudslides. 
The small towns of Barra de Navidad and San Patricio in Jalisco are expected to experience catastrophic 20-foot tsunamis during Patricia's landfall, according to a tweet from NBC meteorologist Bill Karins.
Tied for third: Patricia is tied for the third strongest storm ever recorded, according to Karins.
The Category 5 storm is third behind 1961 typhoons Nancy and Violet in Japan, Karins reports. Those storms had maximum sustained winds of 215 mph and 205 mph, respectively, USA Today reports.
Patricia ties for third with the deadly 1958 Typhoon Ida in Japan, according to USA Today. 
Oct. 23, 2015, 6:00 p.m. Eastern: This story has been updated.