1 Dead After Shooting at Tennessee State University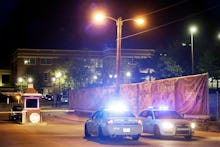 One person was killed and two more injured in a shooting Thursday before midnight, according to Metro Nashville police. The incident happened in a courtyard at Tennessee State University. According to CNN, the shooting resulted because of an argument regarding a game of dice. 
According to university spokeswoman Kelli Sharpe, two students were injured, CNN reported. Neither their names nor the name of the shooter had been released as of Friday morning. 
Sharpe said just before midnight, those involved in the shooting were attending a student gathering. Two individuals not enrolled at Tennessee State may have been on the scene at the time of the altercation, she said. Two men opened fire, killing one.
Per CNN, Sharpe said the incident Thursday night may or may not have involved gambling.