This Activist Perfectly Describes Why "Fat" Isn't a Dirty Word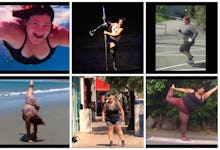 Many fat women are taught from a young age their size is shameful. Activist Jes M. Baker said this is not only insulting, but patently untrue, which is why she's on a mission to spread an inspiring message through the #FatGirlsCan challenge.
Despite being told that "until we become un-fat, we can't experience the life we want, we can't find the love we're looking for and can't have the happiness we desire," Baker said in a video, fat women can live their lives to the fullest — and already do.
Baker reminds women they "can find love, they can win Emmys, they can whitewater raft, they can have healthy pregnancies, they can ride roller coasters, they can break fashion rules, they can be professional dancers, they can be rockstars, they can have amazing sex, they can, they can, they can," she told the Huffington Post on Thursday.
Baker, who has written a soon-to-be-released book on the topic, Things No One Will Tell Fat Girls, is challenging others to get involved by sharing photos of themselves "doing that thing that someone said you couldn't" on Facebook, Twitter and Instagram with the hashtag #FatGirlsCan.
And plenty of individuals already are:
Baker's project joins a growing legacy of body image activists spreading the message that "fat" isn't a dirty word. From giving inspiring TED talks to creating social media-based communities to designing fat-positive merit badges, body image activists are creatively calling out how normalized fat-shaming has become.
"Being unafraid of the word 'fat' has made me realize how often I used to keep silent about the matter to avoid being associated with the word, as if my fatness were a secret!" Lillian Bustle, a burlesque dancer who spoke of embracing the term "fat" in a TED Talk, told Mic in May. 
And studies back their efforts. A 2013 study, for example, showed fat-shaming may actually make people gain, not lose, weight, while a separate study found that because some doctors have an anti-fat bias, many overweight people forgo medical treatment altogether for fear of being shamed. Studies also show that one need not fit a stereotypical standard of thinness to be healthy, either: Certain measures of health as it relates to size — like the body mass index aren't always accurate. 
"It's time to remind ourselves that the word 'fat' is not a bad word, that it's an adjective, it's a benign descriptor of size," Baker said in the video. She said the project is ultimately "for the fat girls who have no idea that they are absolutely perfect just the way they are."