Lincoln Chafee Will Drop Out of 2016 Presidential Race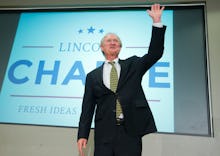 Democratic presidential candidate and former Rhode Island Gov. Lincoln Chafee announced his withdrawal from the 2016 presidential election on Friday. Chafee made the announcementat the Democratic National Committee's Forum on Women's Leadership in Washington, D.C., Friday morning. 
"As you know I have been campaigning on a platform of Prosperity Through Peace," Chafee said, according to a prepared statement. "But after much thought I have decided to end my campaign for president today. I would like to take this opportunity one last time to advocate for a chance be given to peace."
Late Thursday night, Chafee confirmed his Friday morning speech via Twitter and alluded to the "future" of his campaign.
Chafee is a former Republican Senator who made the switch to the Democratic Party in 2013. Yet signs of his changing party affiliation were written on the wall before he left the GOP. In 2012, Chafee spoke at the Democratic National Convention in Charlotte, North Carolina, where he voiced the need to fight climate change, shared his support for gay marriage and argued for a woman's right to choose — all topics President Obama was pushing for at the time. 
Chafee's decision to drop out of the election may come as no surprise to some, considering that as recently as July 15, the Democratic candidate was polling at "literally zero," per Time. Huffington Post's poll tracker, which combines the most up-to-date data from opinion polls, puts Chafee at a meager 0.4%
Meanwhile, according to Huffington Post's data, former Secretary of State Hillary Clinton is polling at 50.1%, followed by Vermont Sen. Bernie Sanders at 24.2%.
The second of six scheduled Democratic presidential debates will take place in Des Moines, Iowa. The event will be hosted by CBS News on Nov. 14.