Rebel Wilson Thinks Plus-Size Clothing Is Awful — and She's Doing Something About It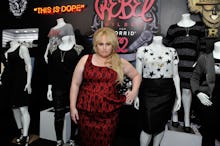 Actress Rebel Wilson just called out plus-size clothing for looking like "what your auntie would wear to a wedding." She's not only correct, she's also actually doing something about it. 
See this great dress Wilson is wearing? Yep, it's from the latest trendy plus-size line.
Wilson celebrated Thursday the launch of her plus-size line at the plus-size retailer Torrid, a spunky, glittery and occasionally red carpet-worthy collection. 
The collection in particular speaks to the size-18 comedic actress' edge while addressing some of the major problems with plus-size clothing. 
"What I found with a lot of plus-size clothing was that it didn't seem cool or on-trend," Wilson told People magazine. "It was kind of like what your auntie would wear to a wedding. So it was a mission to find clothes that fit and were well-made... it definitely is an underserved market."
The clothing line, which launches Nov. 1 in Torrid stores, includes 31 pieces in sizes 12 to 28 and reflects Wilson's various personalities and styles. There are rock 'n' roll-inspired separates alongside cocktail-style dresses, one of which Wilson wore to this week's debut. 
The move to incorporate cocktail attire into the line was likely no accident. In August, the 35-year-old made headlines when she walked the MTV Video Music Awards' red carpet in a dress from Eloquii, a popular plus-size brand with many online fans. The reaction to the choice was welcome, but also drew attention to the limited resources plus-size celebrities have when dressing for formal, Hollywood events. 
Thankfully, change is coming. Marc Jacobs recently debuted a gown — worn by plus-size indie rocker Beth Ditto — at his show during New York Fashion Week in September (which made headlines on its own, showing how revolutionary Ditto's mere presence actually was). The moment was also noteworthy for showing that, yes, red carpet-worthy dresses can be made in bigger sizes. 
That's something Wilson is fully aware of, and she's shaping up to have a real influence. She knows what women like her need — and she knows what women younger (and less famous) than her want as well. 
"I just was always the kind of person who cared what was on the inside," Wilson told People. "I'm a person who uses my brain; it's not really about my personal aesthetic. But then I realized that if girls can see me standing next to really skinny actresses holding my own and being really confident in how I look, then that's a good message to send."
It certainly is.