Lamar Odom Update: Latest News on Former NBA Player's Condition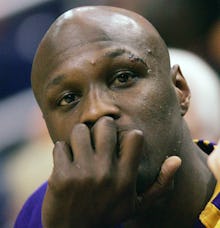 Reports surrounding former NBA player Lamar Odom's current mental and physical condition are mixed after he was found unconscious in a Nevada brothel on Oct. 13. While recent reports say the 35-year-old required multiple surgeries and is suffering from a "fragile mental state," according to TMZ,  a family representative told the Associated Press earlier this week Odom has overcome "insurmountable obstacles." 
"Each day Lamar is getting stronger and reaching significant milestones in his recovery," Alvina Alston, a representative for Odom's aunt, JaNean Mercer, told the Associated Press. However, TMZ reports Odom has already undergone two emergency chest surgeries, although it remains unclear whether the complications are with his heart or lungs.
People reports Odom's recovery could be long. According to the publication, Odom has come down with pneumonia. "Lamar is in a very fragile state," a source told People. "The infection, that is being aggressively treated with strong intravenous antibiotics, is unfortunately not getting better. There are many concerns about his health."
Odom was rushed to a Nevada hospital after he was found unconscious and unresponsive in a VIP suite of Love Ranch, a Nevada brothel, where the former Lakers player spent four days and allegedly used controlled substances, according to a testimony given to a Nevada state judge by Nye County sheriff's detective Michael Eisenloffel, Associated Press reports. Odom's estranged wife, Khloe Kardashian, has reportedly been by his side since he was taken to Sunrise Hospital in Las Vegas. Lamar was moved to a Los Angeles hospital Tuesday.
Kardashian thanked her fans for their support and shared with audiences on her website how she's handling the events. "The past week has been incredibly difficult," Khloe wrote on KhloeWithAK.com. "I am so thankful to family, friends and fans, who have sent nothing but prayers and well wishes to Lamar. ... You can never be prepared for an experience like this, but without the outpouring of love and endless prayers that Lamar has received and the strength I was given from my loved ones, it would have been difficult to endure. Thank you for your continued support."