Police Officer Who Threatened Black Lives Matter Protesters on Twitter Has Been Fired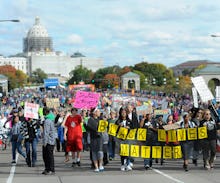 In December 2014, less than two weeks after a grand jury declined to indict New York Police Department Officer Daniel Pantaleo for killing Eric Garner, an off-duty San Jose, California, police officer named Phillip White tweeted a threatening message that appeared to be directed at protesters.
"By the way," it read, according to screenshots taken by BuzzFeed, "if anyone feels they can't breathe or their lives matter I'll be at the movies tonight, off duty, carrying my gun."
In a second tweet posted shortly after, he added, "Threaten me or my family and I will use my God given and law appointed right and duty to kill you #CopsLivesMatter."
Fast-forward 10 months. Now, any time White goes to the movies it will be without the "law appointed right" to do much of anything, as he is no longer employed by the San Jose Police Department, according to the San Jose Mercury News.
Dismissed: The San Jose Mercury News reported this week that White has been dismissed after 20 years on the force. It is unclear when White's departure took place, but the Mercury News says it came at the tail end of a long-running Internal Affairs investigation stemming from the incident. White had been placed on administrative leave last December after his department learned of the tweets.
"Offensive, disrespectful and inappropriate social media comments have no place in the public discourse surrounding the tragic loss of life from recent officer involved incidents," the San Jose Police Officers' Association said in a statement at the time, KNTV reported. The San Jose Police Department and Menlo College, where White coached basketball, also condemned the posts.
This not the first time a police officer has been fired over their conduct regarding the protests. Former Glendale, Missouri, police Officer Matthew Pappert was dismissed in August 2014 after commenting on Facebook that he thought demonstrators in Ferguson should be "put down like rabid dogs," according to the St. Louis Post-Dispatch. Former St. Ann, Missouri Lt. Ray Albers resigned the same week, after video surfaced of him pointing his assault rifle at protesters in Ferguson and telling them, "I will fucking kill you. Get back."
When asked for his name by people video-recording the incident, Albers replied, "Go fuck yourself."
The San Jose Police Department did not respond to Mic's request for comment.
h/t KNTV