Drake Is Getting His Own Tom Ford Lipstick Shade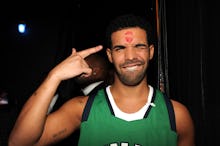 While people are busy teasing rapper Drake for his awkward dance moves in the "Hotline Bling" music video, he's busy getting his own namesake lipstick shade, courtesy of designer Tom Ford.
Drake's lipstick color will be released Oct. 30 as part of Ford's Lips & Boys collection, People reports. The shade is a lush, shimmery plum-burgundy and the closest most will get to kissing Drake. 
The lipstick will cost just over $40, Madame Noir reports, but that's a small price to pay for one's lips to be blessed by a Drake-inspired creation.
Fans are already having a hot flash anticipating the "Drake" lipstick. "You're everything that I see, I want to wear your pigmentation, flawlessly," one Reddit user riffed off Drake's song "Best I Ever Had" in response to the announcement.
"Sending this link to my boyfriend so he can buy this for me the second it's available," another Reddit user wrote. "Drake is both of our man crushes so he'll understand." 
As far as the designer and rapper's relationship go, Drake has honored Tom Ford in two prominent ways. Drake's 6-minute song "Tuscan Leather," the intro to his third album Nothing Was the Same, was an ode to the signature Tom Ford cologne. "Tom Ford Tuscan Leather smellin' like a brick," he raps in the first verse. Drake also rocked Tom Ford shoes and bracelet on the cover of GQ magazine in 2012, when he expressed his desire to be "iconic."