Will Hurricane Patricia Hit the United States? Here's What You Should Know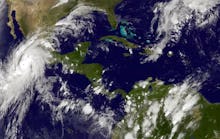 Hurricane Patricia, a weather system that quickly gathered strength overnight and is being called the largest storm ever recorded, is on course to hit the west coast of Mexico on Friday, an event that will bring flooding to parts of the United States as well. 
According to the National Hurricane Center, Patricia is on a northward storm path and will lessen in intensity as it moves across Mexico on Saturday. However, ABC News reports that millions of residents of Texas should expect to feel the effects of the hurricane through Sunday. The National Weather Service has issued a flash flood watch in the cities of Dallas, Fort Worth, Houston, San Antonio and Austin.
"This is really, really, really strong," said Clare Nullis, a spokeswoman for the World Meteorological Organization, Reuters reports. "It's comparable with Typhoon Haiyan which hit the Philippines with such devastating affect a couple of years ago. The winds are enough to get a plane in the air and keep it flying." Typhoon Haiyan hit the Philippines in November 2013, killing at least 6,300 people. 
Radar images show the massive weather system from above:
The National Hurricane Center has issued an advisory predicting a "potentially catastrophic" landfall on Mexico's mainland. A hurricane warning is in effect from San Blas to Punta San Telmo on the west coast of Mexico, according to a public advisory from the National Oceanic and Atmospheric Administration. As of 10 a.m. ET, the storm was about 125 miles southwest of Manzanillo, a town in the Mexican state of Colima, according to NBC News. 
Hurricane Patricia is a category 5 storm, the highest rating on the 1 to 5 weather-measuring system. The storm system is traveling at a rate of 10 mph and is expected to have maximum sustained winds of 200 mph. According to National Hurricane Center, hazards affecting Mexico's coastal cities include high winds, rainfall accumulations of 8 to 12 inches, a storm surge that may cause major coastal flooding and surf swell up to 40 feet.