These Powerful Photos of Shoes Show a Different Side of the Refugee Crisis in Serbia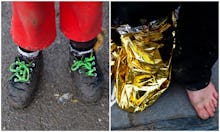 There are about 10,000 refugees in Serbia facing harsh conditions that are difficult to even begin to imagine. 
To shine a light on their lives, CNN teamed up with photographer Marko Risovic to capture the shoes the migrants are wearing, or lack thereof. 
"This kind of story is very hard to show. It's a very big story," Risovic told CNN. The "simple details can tell you a lot about the condition, the emotional message."
In the powerful set, published on CNN's Instagram page, shoes range from beaten-down sneakers to mud-covered leather loafers to mere plastic bags. 
"All the shoes have a different story," Risovic, who is shooting from the border of Serbia and Croatia, told CNN. "Shoes were torn apart by long walking or by the circumstances or conditions at the border crossing."
According to the United Nations High Commissioner for Refugees, dipping temperatures and bad weather in Croatia and Serbia are exacerbating an already dire crisis, as refugees' health is threatened. 
By focusing on footwear, the conditions the migrants are facing — ice cold, mud, rain — are all the more visceral to the viewer. Imagine walking through mud with plastic bags covering your feet. Imagine trekking across unknown ground with one foot completely bare. Something so intimate, so tangible, can suddenly make a faraway crisis seem very real. In this way, such personal photography is an especially powerful medium to help us connect on a personal level.
That was the view of many who saw or shared the startling image of a drowned Syrian child in September. As journalist Peter Bouckaert wrote on Human Rights Watch, the image — specifically, something as simple yet universal as a child's shoes — had the power to humanize the crisis:
"What struck me the most were his little sneakers, certainly lovingly put on by his parents that morning as they dressed him for their dangerous journey. One of my favorite moments of the morning is dressing my kids and helping them put on their shoes. They always seem to manage to put something on backwards, to our mutual amusement. Staring at the image, I couldn't help imagine that it was one of my own sons lying there drowned on the beach." 
Although we can't necessarily understand someone from across the world, certain essential things are universal and transferrable, including what we wear. 
According to CNN, focusing his lens on the shoes allowed Risovic to overcome the communication barriers and the "hesitation of his subjects."
"It's hard to communicate with many of them because they speak Arabic," Risovic said. "Some of them are afraid of showing their faces and being photographed."
With this set of photographs, an entirely new side of the crisis is seen, felt and can be consciously recognized by people across the globe.