5 Seconds of Summer 'Sounds Good Feels Good' — How to Download, Stream and Get Full Lyrics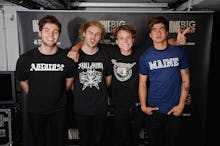 Australian punk boy band 5 Seconds of Summer released their sophomore LP Sounds Good Feels Good on Thursday, nearly three months after releasing its chart-topping "She's Kinda Hot," an outsider's anthem off the album.
The band's second record is available for purchase on iTunes or streaming free on Spotify. The 19-track Sounds Good Feels Good album is packed with all the drum-beating, guitar-riffing and teenage rebellion lyrics punk rock offers. "Runaways, we're the long lost children/ Running to the end of the world," lead singer 19-year-old Luke Hemmings sings in the first verse of the album's seventh track, "Safety Pin." "Everybody wants to throw us away/ Broken boy meets broken girl," he sings.
The album's fourth track, "Permanent Vacation," delivers the classic teen-rebel anthem. "You say that I'm too complicated/ Hung up and miseducated/ I say 9 to 5 is overrated," the song goes, promoting a similar message to Good Charlotte's "The Anthem," which was the teenage anthem of its time in 2002.
The band will embark on its Sounds Live Feels Live tour across the United States starting July 1, 2016, kicking off the tour in in Connecticut and endinon Sept. 18 in Texas. Tickets are available through Ticketmaster and other ticket vendors. 
What critics say: New York Post rock critic Hardeep Phull wrote he's not ashamed of his love for the album, asserting that the band is "one of the most radical bands on the charts" despite people reacting like he "endorsed Vladimir Putin for president" when he says he's seen them live in concert. 
"Lovers of punk-pop music shouldn't hate on 5 Seconds of Summer for being a watered-down Weezer," Phull wrote in the New York Post. "They should celebrate them for keeping the genre visible and opening the door for curious young fans."
"There's no shortage of full-throttle enthusiasm on 5SOS's latest album — all walloping drums and boisterous pop-punk — and yet the noise of the machine can still be heard," the Guardian's Harriet Gibsone wrote. "There are signs of maturity, however, inspired by the pristine punk of Fall Out Boy and Good Charlotte."
Watch the video "She's Kinda Hot" below.
Correction: Oct. 23, 2015
An earlier version of this story stated 5 Seconds of Summer's song is "She's Kinda Hot Though." It's "She's Kinda Hot." Another song was misidentified as "Safety Pins." The song is "Safety Pin."