These Stunning Photos of Dreadlocks Prove Hair Can Make a Beautiful Statement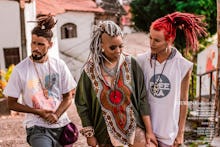 Hair can be a powerful thing.
A new series of stunning images featuring models with long, dreadlocked hair, shot by photographer Kelvin Yule, showcase how majestic the tightly coiffed style can be. Yule's photos are part of four different spreads shot in collaboration with Mukunã Dreadlocks salon in city of Salvador, Brazil, for the "Mukunã Editorial" series. ("Mukunã" means hair in the ancient Yoruba African language, Yule told Mic.)
The goal is to present images that spotlight the beauty of a hairstyle that's sometimes ill-received or judged in Brazil, due to the country's history of racism toward people of African descent, Yule said. On the Brazilian site Catraca Livre (which Yule translated for Mic), Mukunã Dreadlocks summed up the goal of the photo series as:
"We believe in the power of Mukunã dreadlock as a political act and strength of our culture. Aware that the hair dread still suffers from prejudice grounded by the structural racism that plagues our society, we're affronting with four beautiful editorials accompanied by their respective teasers that exalt all ancestry, attitude, sophistication and fashionismo of our people."
A movement toward embracing natural hair: Dreadlocks, or locs, are a hairstyle where strands are left uncombed or unbrushed and are instead twisted together to form long, thicker locks of hair. There are salons and locticians dedicated to the hairstyle, which requires dedication; it can takes months to grow into anything comparable to the "Mukunã Editorial" models'.
The style, ideal for thick curly hair, has roots in Rastafarian culture (although art history suggests they go back even further, to various other cultures). But it's undoubtedly become connected with black culture generally, as Yule makes clear. 
That black cultural connection is fraught in Brazil, where subtle acts of racism persist in a country where black people make up 53% of the population, yet face inequality, discrimination and lack of representation. Vanessa Rodrigues, a journalist in Brazil writing for the Huffington Post, described the subtle prejudice she experienced as a child, when the texture of her curly hair impacted the way people perceived her.
"I started going to beauty salons around 5 or 6 [years old]," she wrote for the Huffington Post. "And when my hair came out straighter, it was considered more stylish. People would compliment my curls, but they didn't make for 'night out on the town' hair. It was only as an adult that I could see the prejudice in this opinion."
Yule told AfroPunk that in Brazil, Mukunã Dreadlocks salon owners Claudio and Victorio had themselves faced rejection for their hair, which they had initially styled in dreads "as a form of empowerment." Instead of getting rid of their locs, they instead learned how to do it themselves and opened their salon business. 
Yule's photo series might be based in Brazil, but his embrace of natural hair is part of a larger global movement toward embracing hairstyles that have long been shut out of the ideal beauty standard. 
In the United States, this is evident with popular bloggers and Instagram accounts celebrating #naturalhair, celebrities snapping selfies with their natural hair and even festivals dedicated to black hair. 
A younger generation of women are embracing their locks as an an empowering act of self-love, a IDGAF statement to the world or both. And in doing so, they — including the Mukunã models — are showcasing how gorgeous that hair can be.
October 23, 2015, 6:11 p.m.: This story has been updated to clarify that the post on Catraca Livre was written by the staff at the Mukunã Dreadlocks salon.