Hillary Clinton: "When Women Talk, Some People Think We're Shouting"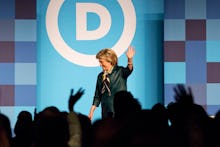 "As some of you well know, I had a pretty long day yesterday," Hillary Clinton said Friday at the Democratic National Committee's Women's Leadership Forum in Washington, D.C. She was referring to her marathon testimony before the House Select Committee on Benghazi on Thursday.
After thanking chairwoman Rep. Debbie Wasserman Schultz for her dedication to the advancement of women's rights, Clinton highlighted the work of Vice President Joe Biden and his contributions to government, just two days after he announced he wouldn't seek the Democratic nomination for president.
Clinton didn't mention the 11-hour Benghazi hearing again, but discussed issues like paid leave, the minimum wage and Planned Parenthood.
"If calling for equal pay, paid leave and women's health is playing the gender card," she told the audience, "then deal me in."
Clinton drew the loudest applause when she brought up gun control. After saying she had been told to "stop shouting about gun violence," she retorted, "First of all, I'm not shouting. It's just when women talk, some people think we're shouting."
The former secretary of state also spoke about her "most amazing and extraordinary granddaughter" and the desire to build a better world for her. She told the crowd at the Grand Hyatt a story about a young girl who recently asked her at a town hall if she would be paid the same as a "boy president" if she were to be elected.
Clinton said she assured the girl she would.