Adele's Video "Hello" Is Blowing Up Twitter With the Most Hilarious Tweets, GIFs and Memes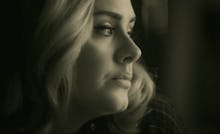 Adele's latest single "Hello," the first from the British singer and songwriter's upcoming album 25, was released on Vevo Friday morning, giving fans all the feels. The accompanying music video, which shows an emotional Adele recalling a painful breakup, was taken by the Internet and turned into countless memes and GIFs that have exploded on Twitter.
Adele's sad looks and heartbroken faces were said to have several different meanings, from being denied office snacks, to reading negative comments online:
The 27-year-old's latest hit produced a number of other hilarious memes and tweets on Friday:
While social media users had a field day translating Adele's music video into dozens of other relatable meanings, the jokes seemed to be in good fun. After all, it's the artist's first full music video in four years, and the singer is clearly set for a major comeback.
The song catapulted to success on Friday, topping both One Direction's "Home" and Justin Bieber's "Sorry" on iTunes' "top songs" list. One Twitter user cleverly  took a screenshot of the list of songs and tweeted the image, writing, "When u forget to text ur mom that u got home safe":