Who Is John Harwood? A Guide to Your CNBC Republican Debate Moderator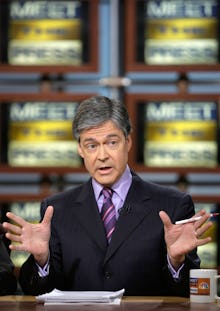 As Republican presidential hopefuls gear up for the third GOP debate, CNBC anchors Carl Quintanilla, Becky Quick and chief Washington correspondent John Harwood are preparing questions for the candidates. The debate, titled "The Republican Presidential Debate: Your Money, Your Vote," kicks off Wednesday night at the University of Colorado in Boulder at 8 p.m Eastern.
Harwood's experience: Harwood has been the chief Washington correspondent at CNBC for a decade, according to his company profile. He is also a writer for the New York Times, where he mainly covers the economy. 
Harwood has been studying and reporting on the U.S. economy since graduating magna cum laude in 1978 from Duke University with a degree in history and economics. He became a Harvard University Nieman fellow, a fellowship that works to improve the ethics and progress of journalism, one year before joining the Wall Street Journal as its White House correspondent in 1991. 
Harwood has interviewed a number of Republican presidential candidates this year, including real estate mogul Donald Trump, former Hewlett-Packard CEO Carly Fiorina, former Florida Gov. Jeb Bush and former neurosurgeon Ben Carson. The 59-year-old sits down with candidates in conversational interviews over lunch and discusses everything from their campaign strategies to international relations. The interviews with Harwood are part of CNBC's online "Speakeasy" series.
Harwood has reported on the last eight presidential elections, appearing on NBC's Nightly News and PBS' Washington Week. He also co-moderated last election season's CNBC presidential debate, where he made headlines for asking Sen. John McCain questions about his character.