Martin Shkreli Just Doubled Down in His Bizarre Feud With Bernie Sanders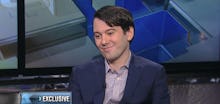 The young pharmaceutical CEO who purchased a little-known generic drug used primarily by AIDS and cancer patients, then spiked its retail price by 5,000% — only to see another company waltz in on Thursday to undersell him and undermine his big investment — is fixing for another fight.
In an interview with Fox Business Network on Friday, Martin Shkreli again challenged Democratic presidential candidate Sen. Bernie Sanders (I-Vt.) to a debate on the pharmaceutical business. 
The Turing Pharmaceuticals founder has an odd hang-up with Sanders, who was one among the millions who denounced him as the avatar of drug industrial greed when the story about Shkreli's "price gouging" (as Hillary Clinton put it) operation broke last month.
"I think he's a demagogue," Shkreli said on Friday. "He'll say anything to get a vote, and for me to be his piñata is unacceptable."
Despite Sanders' repeated whacks, Shkreli earlier this month attempted to donate $2,700 to the senator's campaign — a sum that the candidate publicly rejected and donated to an HIV clinic. "I think he has a lot of great ideas," Shkreli said of the candidate during his Fox Business interview, moments before declaring he would "destroy" Sanders in the debate they'll never have.
Shkreli also had some harsh words for his Big Pharma competitors, a number of whom have attacked him personally as they saw the controversy surrounding Turing's ugly-but-legal business practices as a threat to their own profit margins. He said they didn't understand science the way he did and similarly suggested they engage in some kind of "contest" to settle the matter.
Watch the whole interview here, if you must: