Adele's "Hello" Isn't About an Ex-Boyfriend — It's About Herself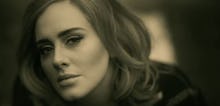 In Adele's "Hello," her first single in three years, the British songstress is greeting someone for the first time in years. Who exactly is on the other side of that "hello"?
Judging from Adele's other work, the obvious answer would seem to be an ex-boyfriend. It's theoretically in the same vein as songs like "Someone Like You" and "Rolling in the Deep" from 21, her second album. The video for the song, directed by Canadian Xavier Dolan, supports this narrative, casting Tristan Wilds, who starred in The Wire and 90210, as Adele's ex-boyfriend.
The song is far less literal than that. The meaning of "Hello" isn't about reconnecting with an ex-boyfriend. "Hello" is about Adele reconnecting with herself.
In her Twitter announcement of 25, her third studio album and first in four years, Adele talked about growing up and finding herself again. She called 25 a "make-up record" because, as she put it, "I'm making up with myself."
"25 is about getting to know who I've become without realizing," she wrote.
In the years since 21, Adele had a child and found a lover in her partner Simon Konecki. That record launched her to worldwide fame, with commercial and critical success the likes of which the young girl who wrote her debut album 19 could never have expected. So while Adele will always be Adele, she lives a very different life than when she was writing 21.
So in the opening lines of "Hello," Adele greets someone. "Hello, it's me/ I was wondering/ If after all these years/ You'd like to meet/ To go over everything," she sings. Taking "Hello" as a song addressed to herself, these lines become about a woman looking to rediscover who she is after years of not knowing. That jibes beautifully with 25's stated mission.
In the chorus, Adele says hello from two different places: "the outside" and "the other side." The former would seem to refer not to location, but to thinking a bit beyond herself to better understand who she is now. The latter is similar — it's about a woman who lived through a very difficult relationship, as detailed in 21, and the influx of fame and came out on "the other side" of it.
Much has been made of the phone elements in both song and video form of "Hello." In the song, Adele sings about calling someone at home "a thousand times." On its surface, that seems odd. Why in 2015 is she calling someone on their landline? Taken as Adele trying to connect to herself, however, it makes sense.
"Hello" is not a literal song. The "million miles" she says separates her from the person she's addressing aren't physical — they're emotional. No one who's been through what Adele has could possibly be in the same place psychologically. In four years, she's grown leaps and bounds. "Hello," and by extension 25, are an exploration of what it's like to come together with yourself after such growth. 
With the release of this song, Adele seems to be saying she has met herself. Now, she's ready to introduce this new Adele to us.