Drake's 'Views From the Six' Is Arriving "Imminently." Here Are the Cuts We Hope to Hear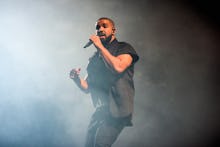 It's been more than two years since Drake released an official studio album, and fans have been itching to hear what songs may be included in the rapper's newest project, Views From the Six. The Canadian rapper told Rolling Stone his latest album is coming "imminently," however, causing rampant speculation about what already released singles the "6 God" rapper may include in the album, as well as rumors of collaborations and potential song names on Drake's fourth studio album.
Here are some potential Drake songs we'd love to see on Views From the Six:
"Can I (Feat. Beyoncé)"
Source: Soundcloud
"Can I" leaked online back in May via SoundCloud, but Drake has yet to speak publicly about the unofficial release of his collaboration with R&B artist Beyoncé. The track also hasn't appeared on either mixtape Drake produced this year ("What a Time To Be Alive" and "If You're Reading This It's Too Late"). Drake could be following Beyoncé's lead by remaining elusive around his upcoming album's release date: The 34-year-old vocalist shattered album sales records with the digital drop of her self-titled 2013 album.
"On A Wave (Feat. Tinashe)"
Source: Soundcloud
It would make perfect sense for Drake to include the leaked single "On A Wave," which features a catchy hook from singer and songwriter Tinashe, in Views From the Six. The 22-year-old has been featured in some of the year's biggest hits, including Ty Dolla Sign's "Drop That Kitty" and Kid Ink's "Body Language." Not to mention, Tinashe has already performed the single live while opening for Nicki Minaj's PinkPrint tour this past summer. 
"Go Out Tonight"
Source: Soundcloud
"Go Out Tonight" leaked along with "On A Wave" in late May after hackers had released Drake's collaboration with Beyoncé. The song is slower-paced than the other two but remains musically consistent with them: a heavy bass accompanies a slow beat as Drake raps about his love of women, going out for a night on the town and letting go of worries and responsibilities. 
"Hotline Bling"
Drake's "Hotline Bling" music video immediately became an Internet sensation when it released Monday, as social media users spent the week creating some of the best memes and GIFs Twitter has ever seen. The song, which is the closest Drake has been to having another No. 1 hit on the Billboard Hot 100 since his 2009 single "Best I Ever Had" — the song is currently No. 2 on the chart — deserves a spot on Views From the Six.
That is, whenever Drake decides to release it.
Although Drake has yet to release his highly anticipated 2015 album, he certainly hasn't vanished from the public eye, nor the music industry. The 28-year-old released a joint mixtape, What a Time to Be Alive, with fellow artist Future on Sept. 20; he's also surpassed the number of top 100 hits The Beatles' produced in their era — Drake now has 100 top hits — and essentially won a Twitter war that was the talk of the summer against Philadelphia rapper Meek Mill.