Hurricane Patricia Live Stream Video: Largest Storm Ever Recorded Hits Mexico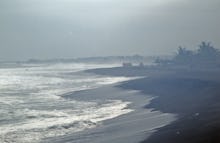 Live stream videos of Hurricane Patricia show the Category 5 storm nearing Mexico's Pacific coast. The hurricane, which has already brought rain to the region, is expected to make landfall on Friday afternoon. In anticipation of what the National Hurricane Center has called a potential catastrophe, Mexican officials have begun to evacuate thousands of residents and tourists from towns along the county's southwestern coastline, USA Today reports. 
In total, 50,000 people are expected to flee from the Mexican coastal states of Colima, Jalisco and Nayarit, according to Vallarta Daily. 
At 1 p.m. CT, the storm was located about 85 miles from Mexico's coast, moving north-northwest at 12 mph:
The National Hurricane Center said the weather system will have maximum sustained winds of 200 mph, putting the storm among the most powerful in recent history and the strongest storm on record. Among the storm's hazards are 8 to 12 inches of rain, strong winds and ocean swells up to 40 feet high. 
Here are three on-the-ground live feeds as the country braces for the hurricane.  
Live stream to Colima, via YouTube:
Live stream to Guadalajara, via YouTube:
Live stream to Puerto Vallarta, via YouTube:
Although the storm is expected to lessen in intensity as it moves across Mexico, the National Weather Service has issued flash flood warnings in the Texas cities of Dallas, Fort Worth, Houston, San Antonio and Austin.