Demi Lovato Twin Sister Theory: Mystery "Poot Lovato" Has Sparked Hilarious Memes Online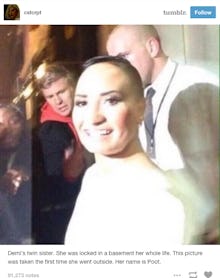 When a Tumblr user recently uploaded a low-quality picture of singer Demi Lovato claiming it was her twin sister "Poot Lovato," it didn't matter that it was completely untrue — the Internet ran with it Friday, producing hilarious memes and even a now-deleted Wikipedia page for the fake Lovato twin, BuzzFeed reported. 
The culprit behind the fake Lovato, Tumblr user "Cstcrpt," posted the fan pic of Lovato claiming it was really "Demi's twin sister" Poot, who had been "locked in a basement her whole life" and the picture was of "the first time she went outside."
Cstcrpt has since deleted their profile, according to BuzzFeed, but no fear: Plenty of people got their hands on Poot Lovato in time to spark an Internet conspiracy around the questionable existence of a Lovato twin, who clearly grew up in her sister's shadow. 
The conspiracy spread to Twitter, where someone promoted inspiring cover art for Poot Lovato's upcoming album, Unsure, as opposed to her sister's Confident.
Poot Lovato is way more relatable than her sister:
For those who want to learn more about Poot's hidden past and alleged German dialect, the Wikipedia page is still available for viewing:
More on Poot's secret underground past was posted to blogging site Wattpad:
Poot Lovato could easily upstage Danielle Radcliffe as "Harry Pooter":
She may not be cool for the summer, but she's "pool for the summer:"