This NSFW Tumblr Features Pictures of an Anthropomorphized Dick Just Hangin' Out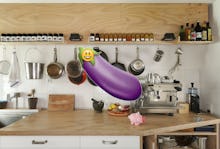 If you've ever asked yourself, "What if my dick was its own person who did things?" then you have at least one trait in common with this anonymous guy. He recently went viral for creating a Tumblr featuring pictures of his anthropomorphized dick out on the town doin' thangs. 
Note: The following pictures are NSFW. (Unless you work from home and/or a place where flaccid dicks wearing glasses/tiny little hats are NBD. Or unless you work at a place where exposed dicks might be a big deal under normal circumstances, but your boss is on vacay this week so you're kind of like "YOLO" when it comes to dick pic browsing. Or unless your boss is in town but you DGAF because you're trying to get fired and you'd like to do it in a creative/somewhat salacious way. You're welcome.)
OK, so let's begin.
Here is the dick as seen from within a pumpkin, with seeds cheekily covering its possibly-existent eyes:
Below, the dick can be seen in a vintage top hat. According to the post's caption on Tumblr, the dick is greeting the camera by saying, "Top 'o the mornin to ya folks!"
Here is the dick offering a compassionate embrace to what appears to be a stuffed hedgehog:
Perhaps unsurprisingly, the man behind the little man has opted to remain anonymous. But he told Metro that the inspiration behind the project came from a fateful late-night sexting session.
"As I was taking some (tasteful) sexting shots I noticed my dick had actually been resting on a pillow the whole time," he said. "And so I put a sheet over him because it looked like he was sleeping. I sent that pic. She laughed. And then I drew a face on it. She laughed some more. And then the arms. Then the accessories.
"And so, The Little Dude was created." 
(Mic has reached out to the owner of the dick for additional comment.)
Interestingly enough, this isn't the first time someone has tried to humanize the often-maligned art of the dick pic. Earlier this year, New York artist Soraya Doolbaz was suffering from dick pic fatigue as a result of the low-quality nature of sexts that male suitors sent her way. So she started recruiting dick models to dress up in more tasteful poses (and outfits).
"Camera angle, lighting, focus [in the photos] were all on point. It got me thinking about staged dick pics," Doolbaz previously told Mic. "I thought, 'why don't I take the pictures with a professional camera?' Then I started thinking about dicks as characters completely separate from the person behind the dick. An alter ego, if you will."
The Things My Dick Does guy seems to have a similar dedication to production value.
"As I started to have more of a vision of the direction I was taking it things started to take longer. The latest one, the cake one, made me feel like I was on a real production shoot," he told Metro.
You can peep this dude's wang engaging in various activities on his Tumblr page.
Have a great weekend!