Popcorn Time Down for Good? Online Pirating Service Posts Potential "Last" Status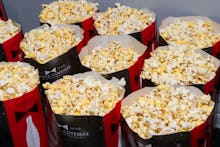 The popular movie pirating site Popcorn Time appeared to shut down permanently Friday following a week of mysteriously going in and out of service. A message posted to the website Friday afternoon simply said the URL, popcorntime.io, was "dead."
A tweet on Popcorn Time's Twitter account read that the status update was the site's "last." 
The site's developers said the Popcorn Time shutdown was the result of outsiders. "In the last few days someone has been tempering with our infrastructure, mainly our DNS service, and we can't convince our provider Gandi.net that we are us and want to stay online," representatives for Popcorn Time told TorrentFreak in a statement.
However, it was rumored that some of the site's developers were leaving Popcorn Time, which illegally streams movies for free online, over fear of legal repercussions, TorrentFreak reports. This week, visitors to the Popcorn Time site might have gotten an error message. 
The site's developers also announced Friday they were launching a version of Popcorn Time called Butter, a supposedly legal version of the original site, the Verge reports. Developers described Butter as "stripped down of the parts that made people wary," according to the Verge. 
Popcorn Time first launched in 2014. The site circumvents copyright laws by pulling bits and pieces of movies from all over the web and splicing them together. "Popcorn Time isn't a service as much as an idea: a simple tool that hides the messy aspects of finding and downloading files using the BitTorrent protocol," the Verge reports. BitTorrent refers to peer-to-peer transferring of large files online.