Buffalo Bills vs. Jacksonville Jaguars Live Stream: How to Watch NFL Week 7 Matchup Online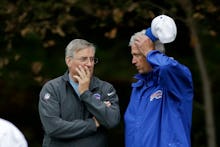 Sunday's Buffalo Bills vs. Jacksonville Jaguars matchup brings about a historic moment for the NFL. Not only is it the first time these two franchises have matched up on foreign soil, but it will mark the first time Yahoo has ever live streamed an NFL game. 
For those looking to watch online you can find a link to the Yahoo live stream here. 
The matchup features a much improved Bills team led by new head coach Rex Ryan. The Bills enter this weekend 3-3 hoping to keep pace with the AFC East leading New England Patriots. Buffalo is coming off a loss to the Cincinnati Bengals in Week 6 where they allowed Andy Dalton to throw for 3 touchdowns in a 34-21 loss. The Bills defense has been their strength and will look to take advantage of a Jacksonville team that has been reeling, entering Sunday with a four game losing streak. 
Jacksonville (1-5) has struggled throughout the  season. Led by second year quarterback Blake Bortles, the former No. 3 pick in the 2014 NFL draft has shown promise averaging in the top half of the league in passing yards, NFL.com reports. The Jaguars have struggled on both sides of the ball, ranking 30th in both points scored and points allowed, according to NFL.com.