It's Official: Adele Just Dethroned Taylor Swift as Queen of the Internet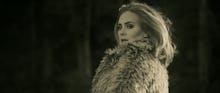 It's time to call someone on their flip phone and tell them the news: Adele has turned the tables on Taylor Swift. 
After the surprise Friday release of Adele's new video "Hello" from her upcoming album 25, the video pushed past 23 million views in under 24 hours, surpassing Swift's previous record of 20.1 million views in 24 hours for "Bad Blood." Vevo has yet to certify the record, which was obtained on Saturday morning, 24 hours after the video's initial posting. 
The Instagram-filtered video spurred an Internet frenzy on Friday, especially with those who became obsessed with Adele's flip phone and her method of making tea: pouring the hot water first, followed by dunking the tea bag. 
Pop divas have a habit of handing the Vevo record to one another: "Bad Blood" took the crown from Nicki Minaj's "Anaconda," which had 19.6 million views in a day. Prior to that, Miley Cyrus's "Wrecking Ball" held the record with 19.3 million. 
Though Adele has held the 24-hour Vevo record for a few hours now, many are looking to see if she will set fire to the rain and capture Swift's other record. Just four days ago, "Blank Space" became the most-viewed Vevo video of all time. 
If there is a blank space next to the title of "Queen of the Internet," Swift can surely shake it off.