Hurricane Patricia 2015: 13 Photos and Videos of the Historic Storm Arriving in Mexico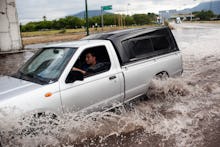 Less than a day after making landfall, Hurricane Patricia is pretty much over.
The Weather Channel downgraded Hurricane Patricia to a tropical depression on Saturday after the "strongest hurricane ever known to make landfall on the Pacific coast of Mexico" quickly died down. In other good news, USA Today reported the hurricane did only light damage to the region and has not yet resulted in any reported deaths in Mexico.
Mass evacuations were likely key in preventing casualties. CNN reported 15,000 tourists were evacuated in advance of the storm, while it seemed like extensive precautions were taken to weaken its eventual impact.
Heavy flooding, however, was reported in Texas, derailing a train and pulling a man into a drainage ditch.
Dramatic photos and videos captured Patricia making landfall. Here's the best: