3 Dead, Dozens Injured After Car Hits Oklahoma State Homecoming Parade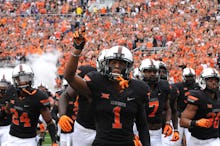 Multiple people are dead and dozens have been taken to the hospital after a car drove into the Oklahoma State homecoming parade in the city of Stillwater. 
News On 6 reports three people are dead, two are in critical condition and 27 were taken to the hospital after the car slammed into the parade after turning off an adjacent road. The station also reported the car collided with a police motorcycle unit.
According to News On 6, Oklahoma State's "homecoming weekend festivities are said to be among the largest in the nation, with tens of thousands attending various events every year, including the annual Saturday morning parade."
"I was sitting right here and she came plowing through," Larry Smith told the Stillwater Press. "All I saw was bodies flying, kids flying. It was horrible."
Photos from Stillwater showed the car at the scene.
One parade-watcher posted a view of the event prior to the incident.
Another posted a photo showing orange-clad locals and students in a prayer circle.
Stillwater police spokesman Capt. Kyle Gibbs did not have any further comment on the incident, reports KSN.
This is a breaking news story and will be updated as more details become available.