Donald Trump Mocks Ben Carson's "Super Low Energy"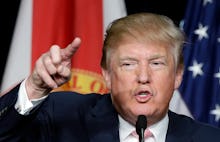 As neurosurgeon and presidential candidate Dr. Ben Carson continues to close in on Donald Trump in the polls, he's attracting the attention of none other than the current front-runner for the Republican nomination for president, real-estate billionaire Donald Trump.
Recent polls show Carson leading Trump by large margins in the early primary state of Iowa. Trump took the time Saturday to shoot back at Carson, criticizing the candidate for his laid-back demeanor, questioning whether he has the "energy" to be president and then making fun of him for sounding boring.
"Donald Trump falls to second place behind Ben Carson," Trump read to a crowd at Trump National Doral Miami resort, according to CNN. "We informed Ben, but he was sleeping." He added Carson had "super low energy," while he himself had "tremendous energy."
As CBS News points out, Trump has typically refrained from insulting candidates who have not been critical of him, but Carson is also the first candidate to close in on his lead.
Trump's attacks on Carson come as Republican insiders have grown more wary — perhaps fearful — of the billionaire's rise to power in the GOP. Months ago, it was easy to dismiss Trump as a sideshow, but as a recent Politico profile shows, the implications of his continuing front-runner status have begun to set in.
"I can't even describe the lunacy of him as our nominee. But reason has not applied to date in this race, and my hopes are fleeting that it will ever surface," a Republican from Iowa told the site. Another from South Carolina added, "Donald Trump being the GOP nominee is now within the realm of possibility."
It's hardly exaggeration to say Trump has successfully thrown most of his competitors into disarray.
After Carson, not a single Trump competitor is ranked 10% or above on an average of polls kept by Real Clear Politics.
Florida Sen. Marco Rubio, who has risen to third place, has devoted much of his time to an ongoing feud with Trump.
Former Florida Gov. Jeb Bush, once an establishment favorite, has had to slash his campaign budget and cut staff salaries in recent days in one of the most visible signs Trump's draw has hurt his bid for president. Trump got into an acrimonious dispute with Bush this month after Bush claimed his older brother, former President George W. Bush, had kept the country "safe" during the Sept. 11 terrorist attacks.
In some of his harsher words for Trump yet, Bush told an audience, "I don't want to be elected president to sit around and see gridlock just become so dominant that people literally are in decline in their lives ... I've got a lot of really cool things I could do other than sit around, being miserable, listening to people demonize me and me feeling compelled to demonize them. That is a joke. Elect Trump if you want that."