The U.S. Government Just Ended One of the Worst Abuses of the Prison-Industrial Complex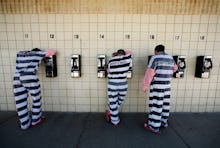 The Federal Communications Commission voted Thursday to lower the price of a 15-minute inmate phone call from its current average of $2.96 to no more than $1.65 nationwide. Even more importantly, the FCC eliminated many of the fees that telephone companies tacked onto each call. According to sources, those fees raised the average call cost for a prisoner to anywhere from $14 to $17.  
According to the FCC, these fees can include an automated payment of $3, a live agent payment of $5.95 and a paper bill fee of $2. All of these fees will be either capped or prohibited. The agency said its decision will also end the practice of flat-fee calls, which charge prisoners a flat rate regardless of a call's length. Currently, rates for collect calls are slightly higher for first-year prisoners, a practice that will also be phased out over time. 
The news came as great relief to many incarcerated persons and their loved ones, who can now avoid going in debt trying to keep in touch. 
Wandjell Harvey-Robinson, whose parents have been in and in out of incarceration since the third grade, told ThinkProgress: "Growing up without them physically there was one issue, but not having enough funds to even communicate with my parents took that feeling of love and security away." 
She told ThinkProgress, "Many times we didn't have the funds to answer the phone because the rates were so high. Me and my little brother would sit and stare at the phone, thinking of all the things we would say if we could only talk to them."
Securus Technologies, Telmate and Global Tel Link receive more than 90% of all the revenue from inmate pay phones and, together with fellow competitor PayTel, plan to sue the FCC to reinstate the charges. However, charges are not the main gripe the companies have with the new FCC ruling. The Commission also banned a lucrative "kickback" scheme in which inmate phone service providers paid jails to be the sole company operating at a facility. 
Representatives from the companies wrote in a filing with the Commission last week that "Representatives of the various parties reiterated that their companies would suffer irreparable, immediate harm under the regulatory approach described in the fact sheet, and further forecast that this harm would be sufficient to support a stay of the order in court." 
Prisoners may have more to worry about than the telephone companies. When news broke of the impending cost-cutting measures, the National Sheriffs Association released a statement saying they may "significantly limit or eliminate altogether" prisoner phone calls.
According to a study from Prison Legal News, a group that advocates for prisoners' rights, states receive about 45% of the revenue from prisoners' calls — a sum of $460 million in 2013.
A 2014 report from the Ella Baker Center for Human Rights, Forward Together and Research Action Design found a host of other information about fees accumulated in prison: 48% of families surveyed were unable to afford the costs associated with conviction. That number rose to 58% among families making less than $15,000 per year. 
The average debt incurred from fees was $13,607; 34% of families had debts from telephone charges alone. The survey also found that those prisoners who were able to maintain contact with their family actually had a lower chance of returning to prison after release. Prison Legal News has also collected data corroborating that finding.  
While this cost-cutting measure may be threatened by sheriffs or phone companies, for now those affected are celebrating. "I have spent close to $25,000 dollars, maybe closer to $30,000 over the past 14 years, just trying to stay in touch with my son," Virginia resident Lillie Branch-Kennedy told ThinkProgress. "There is no reason prison agencies and phone companies should be ... forcing us to choose between putting food on the table and keeping in touch."
Correction: Oct. 25, 2015