2015 MTV EMA Awards Live Stream: How to Watch Full Coverage Live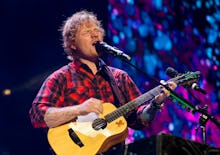 Sunday's 2015 MTV European Music Awards is going to deliver a live streaming experience different than anything the award show has since it began in 1994. The event, which is being hosted by pop superstar Ed Sheeran, will feature a 360 degree virtual reality live stream broadcast through the MTV EMA app, according to billboard.com. The live stream will have a series of cameras allowing users the option to select what they want to view and when, according to Billboard.
Not only will the red-carpet be broadcast live through the MTV EMA app, but the entire awards show as well. The app, which is available across the world and is available in localized languages and will have the livestream can be found here for iPhone and here for Android. 
This years show is expected to be one of the best. Orange is the New Black breakout star Ruby Rose is set to co-host. Performers will include Justin Beiber, Macklemore & Ryan Lewis, Ellie Goulding and Tori Kelly according to the MTV VMA website. The nights big award, Video of the Year, will be a strong competition between Kendrick Lamar's Alright, Taylor Swift's Bad Blood, Pharell Williams Freedom, Sia Elastic Heart and Macklemore & Ryan Lewis Downtown. 
The show starts at 9pm CET, which is 4pm E.T in the United States.