Watch a White Donald Trump Supporter Violently Throw a Latino Protester Out of a Rally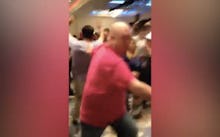 At least one Donald Trump supporter attending an event at the Trump National Doral Miami took matters into his own hands on Saturday, violently removing a Latino protester who was holding the "Q" sign in a row of demonstrators spelling out the word "EQUALITY."
NBC 6 South Florida caught the scene on camera as a bald Trump supporter dragged Florida International University student Ariel Rojas out of the chamber, grabbing him by his collar. All the while, the crowd chants "U.S.A.! U.S.A.!"
Rojas told the station he and his friends were set upon by Trump boosters who tore their signs apart, with one going so far as to beat one of them with a sign that said, "The Silent Majority Supports Trump." Trump campaign staffers confirmed to NBC 6 South Florida the man was not a plainclothes police officer or member of the campaign but "merely an attendee."
These unpleasant incidents are becoming somewhat of a staple of Trump's race to be the Republican nominee for president. Earlier this month, one fan of the real-estate billionaire spat in an immigration activist's face at a campaign stop in Richmond, Virginia. In September, cameras captured another Trump fan tearing up a protester's sign. When two men claiming Trump-inspired motives beat a homeless Latino man, the candidate's only response was that his fans are "very passionate."
According to Raw Story, the Trump campaign additionally turned away reporters from Univision (which he has previously referred to as a tool of the "Mexican government") and would not let them cover the event.
An average of polls kept by Real Clear Politics shows Trump as maintaining a large lead in the race for the Republican presidential nomination, with the support of 27.2% of potential voters, leading neurosurgeon Ben Carson in second place at 21.4%. After Carson, none of Trump's 12 remaining competitors are breaking 10% support.