Bernie Sanders Went After Hillary Clinton — And Laid Out Why He Thinks He Can Win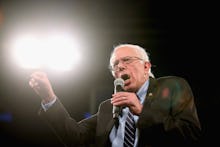 Des Moines, Iowa — Sen. Bernie Sanders (I-Vt.) leveled some of his sharpest criticism of Hillary Clinton yet on Saturday as the Democratic presidential rivals outlined their vision before a lively crowd of Iowa Democrats at the Jefferson-Jackson dinner in Des Moines.
The dinner, held at Hy-Vee Hall, is considered one of the political calendar's most important events leading up to the Iowa caucuses. Eight years ago, then-Sen. Barack Obama delivered a stirring address that was a turning point in his campaign. He went on to win the 2008 Iowa caucuses and the Democratic nomination.
This year's dinner featured speeches from Clinton, Sanders and former Maryland governor Martin O'Malley, but the real fireworks came from Sanders, who was aggressive in tone and compared himself directly to Obama.
What Sanders said: "We are going to prove the pundits wrong again," Sanders told the crowd. "I believe we're going to make history one more time."
Although he did not name Clinton directly, Sanders used his speech to take shots at her vote for the Iraq War, as well as her position on the Trans-Pacific Partnership. He criticized Clinton's support of the Defense of Marriage Act, saying, "Some are trying to rewrite history by saying they voted for one anti-gay law to stop something worse. Let us be clear. That's just not true."
Sanders' supporters were roaring "Bernie! Bernie!" all night. Earlier in the day, Sanders held a march across a Des Moines bridge in which his supporters chanted, "Hey hey, ho ho, the oligarchy must go."
Sanders' most thunderous applause line came when he outlined why he believes he can actually defeat Clinton, despite the polling and the long odds.
"Six months ago, when I began my campaign for president of the United States and announced that we were going to take on the political and economic establishment of this country, very few pundits took the campaign seriously," he said. "I was not widely known. We were at about 3% in the polls. We had no money and no political organization."
"Well, in the last six months things have changed. We have raised more individual contributions than any candidate in the history of this country, at this point in a campaign, averaging all of $30 apiece," Sanders said. "I am the only Democratic candidate for president who does not have a super PAC and we are going to prove them wrong. We will win this election without a super PAC."
Sanders supporters were confident his speech will help him in the polls. Rick Easter, a farmer from Osceola, Iowa, told Mic, "Especially after tonight, I think he's going to take hold."
Another supporter, Abigail Jackson, 17, was drawn to his message of equality.
"He talked about making sure everyone is equal," she told Mic. "I want to make sure if I have kids, they don't have to worry about white privilege or someone having more rights than them because they are gay."
What Clinton said: In contrast to Sanders, Clinton's speech started out more subdued, falling back on several familiar lines. "I'm not running for my husband's third term, and I'm not running for Barack Obama's third term. I'm running for my first term," Clinton told the crowd.
Earlier in the day, former President Bill Clinton appeared alongside singer Katy Perry to campaign for the former secretary of state in what was his first headline speech of the campaign. Clinton came into Saturday's dinner off a strong week in which Vice President Joe Biden decided not to run for president and her marathon testimony before the Republican-led congressional committee on Benghazi received widespread praise.
Clinton seemed to pick up steam toward the end of her speech, when she spoke passionately about women's issues.
"Republicans sure love using government to step in and make decisions for women about our bodies and our rights," she said. "I will do everything I can to protect a woman's right to choose and to defend Planned Parenthood."
"When I talk about these things, Republicans say I'm playing the gender card," she continued. "Well, if talking about equal pay, paid family leave, affordable child care, and women's health is playing the gender card, deal me in."
Clinton supporters were loud, organized and boisterous all evening, wearing "I'm fighting for her" t-shirts and waving battery-powered blue glow sticks. Katy Perry was in the audience, along with a Left Shark impersonator who was rousing supporters.
"As an African American, she's fighting for minorities," Ann Michelle Roberts, 23, who traveled from North Carolina to organize for Clinton, told Mic. "We need a woman in the White House, and she's the right fit."
With over 6,000 people in total attendance, the event had a sports arena atmosphere. The noise and energy was palpable, and at times, deafening.
The Iowa caucuses will take place in 100 days, in February 2016. Hillary Clinton is currently leading by 8 points in the polls.