The Lesbian Couple Kim Davis Tried to Stop Getting Married Just Got Married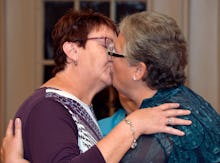 The lesbian couple whose marriage license was denied earlier this year by Rowan County, Kentucky, clerk Kim Davis got married Saturday.
The Associated Press reported April Miller and Karen Roberts celebrated their marriage ceremony with "one rule for their guests: No one was to mention Davis."
Miller and Roberts were among the plaintiffs of the civil suit that ensued when Davis, citing her evangelical Christian beliefs, refused to issue marriage licenses to gay and lesbian couples following a U.S. Supreme Court decision in June legalizing same-sex marriage nationwide. The couple were also involved in the creation of "grassroots advocacy group ... called the Rowan County Rights Coalition," the Associated Press reported.
"It's been an amazing journey and we'd like to thank all the people who stood with us from June 30 to today," Miller said Saturday, according to the Associated Press. "This is your party too."
The two were legally wed in September when Davis was jailed in contempt of court and her clerks began issuing marriage licenses without her.
While Davis may have lost in Rowan County, other local officials across the nation were still resisting the Supreme Court ruling as of September. Davis was recently protested by the infamous hate group Westboro Baptist Church, which accused her of hypocrisy due to her multiple marriages.