Major Earthquake Devastates Pakistan and Afghanistan Border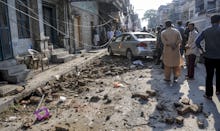 The death toll in the earthquake that struck Afghanistan, Pakistan and India continued to rise Monday, according to the Guardian, however reports of the total number of dead varied. The Guardian reports at least 180 were killed in Afghanistan and Pakistan, while Washington Post reports more than 215 deaths in the region. The quake, a magnitude 7.5 earthquake, struck near the Afghanistan-Pakistan border but was felt hundreds of miles away and caused extensive damage throughout the region.
"Significant casualties are likely and the disaster is potentially widespread," the United States Geological Survey wrote in an orange alert issued after the earthquake struck Afghanistan, CNN reports. "Past events with this alert level have required a regional or national level response."
This is a breaking news story, and will be updated with new information as it's released.
Reports following Monday's quake were grim, including at least 12 Afghan schoolgirls being crushed in a stampede during a rush-evacuation from their school in Takhar, a province near the epicenter of the quake, according to the Independent. Traffic came to a grinding halt in effected regions, including downtown Kabul, Afghanistan, as at least 190 trains in New Delhihad interrupted services, the Guardian reported. Historic landmarks were also among the reported destruction in Afghanistan, including the historic entrance into the town of Ghazni. 
Afghanistan's Chief Executive Abdullah Abdullah used Twitter Monday to alert the region to the extent of the damage, as well as number of casualties, caused by the catastrophic earthquake.
Oct. 26, 2015, 2:11 p.m. Eastern: This story has been updated.