Chris Christie Criticizes Barack Obama and Black Lives Matter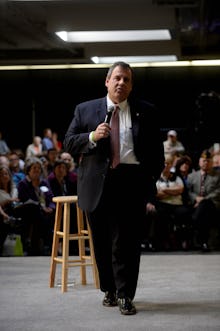 Before New Jersey governor and 2016 presidential candidate Chris Christie was kicked out of Amtrak's quiet car on Sunday for yelling on his cell phone, he called out President Barack Obama in an interview on CBS' Face the Nation for supporting Black Lives Matter, an American movement launched in response to police brutality against people of color.
"There's lawlessness in this country," Christie told Face the Nation host John Dickerson Sunday. "The president encourages this lawlessness ... He does not support the police, he doesn't back up the police, he justifies Black Lives Matter."
When Dickerson pointed out that Black Lives Matter doesn't encourage murder, Christie insisted that it does. 
"Sure they are," he told Dickerson. "They've been chanting in the streets for the murder of police officers." Dickerson mentioned that those "chants" reflect on individuals and not on the collective movement's mission, but Christie claimed that it's still "created by the movement."
Christie's attack on Obama referred to the president's speech supporting Black Lives Matter at the White House on Thursday, when he explained that Black Lives Matter doesn't imply that no other lives matter, but rather it raises a specific issue with violence against the African-American community. 
"I think the reason that the organizers used the phrase 'Black Lives Matter' was not because they were suggesting nobody else's lives matter," Obama said during his speech. "Rather, what they were suggesting was there is a specific problem that's happening in the African-American community that's not happening in other communities. And that is a legitimate issue that we've got to address."
The Black Lives Matter network has publicly affirmed that it does not support nor encourage violence. In a Facebook tribute post on the anniversary of the Sept. 11, 2001, terrorist attacks, the network shut down what it said were lies circulated by right-wing media and politicians.
"Contrary to deliberate lies circulated by conservative pundits and outlets like Fox News, the Black Lives Matter Network does not and has not ever called for violence against any one for any reason," the post reads. "We have not called for protests, and we have not called for violence against law enforcement personnel."