This Makeup Artist Just Gave Five Disney Princesses a Powerful, Unnerving Makeover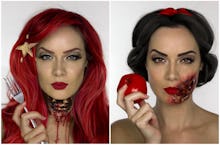 Your favorite Disney princesses just got a brutal makeover — and it's all about shining a harsh light on domestic violence and society's damaging expectations of women. 
With a little imagination and a whole lot of makeup skill, makeup artist Shonagh Scott shows us what it would look like if the powers and charms of Ariel, Elsa, Cinderella, Belle and Snow White suddenly backfired in the most horrific way possible. 
For example, what if Ursula had been more vicious and ripped out Ariel's vocal cords? 
What would it look like if Elsa's powers reversed themselves, sending frostbite into her fingertips and a shard of ice into her neck?
And what if Cinderella had been a lot less graceful when fleeing the prince and took a very unfortunate tumble? 
In the set posted on her Instagram, entitled "Happily Never After," Scott shows off her extensive artistic skill (each look took between 90 minutes to two hours to create) while raising the conversation for some of the more pressing issues facing women today. 
"I wanted incorporate what each Princess is most known for, and make it a key aspect of the makeup," Scott told Mic. "That way it would tell a story — albeit some a little far-fetched, but they are no more far-fetched than the storylines themselves. If Cinderella can have her dressed made by mice and travel to the ball in a pumpkin, then she can certainly tumble down the stairs and faceplant her broken heel while screaming."
Because Scott is making these facial artworks so realistic, she's not letting us look away. Two of the most disturbing makeovers come from Snow White and Beauty and the Beast's Belle. 
Belle appears with clawmarks through her face. "The Beast has lashed out at Belle after she stole his rose," the Instagram caption reads. The makeover represents what it would look like if Belle hadn't tamed the Beast, and is a clear, unsettling reminder of what domestic abuse can look like. 
The other, more disturbing image is of Snow White, who is shown with a massive burn on her face from the Evil Queen's poisoned apple. We might not remember it as adults, but as a tale, Snow White highlighted the dangerous influence that jealousy and a constant striving for beauty can have. This makeup look paints the sometimes-dangerous consequences of that directly on Snow White's face.
Although these images could make for great Halloween inspiration, it's important to know just what you'd be representing. A zombie-esque Cinderella is one thing, but glorifying a bruised and wounded Belle is another. With these photos, the power of makeup to send a message is very, very clear.
Oct. 26, 2015, 1:44 p.m.: This post has been updated to include quotes from Scott. 
h/t Refinery29