Did Hurricane Patricia Hit Mexico? Record Storm Slams Coast, Fades Quickly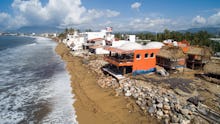 Record-breaking Hurricane Patricia hit Mexico's southwestern coast on Friday night before veering north-northeast into Mexico's inland mountainous region, where it ultimately dissipated. The storm, which the National Hurricane Center last week called "potentially catastrophic," weakened Saturday and caused less damage than officials originally forecasted. 
On Saturday, the National Hurricane Center downgraded Patricia from a Category 5 hurricane to a "post-tropical cyclone," a low-category storm. In its final public advisory, the NHC reported Patricia's maximum sustained winds at 30 mph, a dramatic drop from a day earlier when its winds topped 200 mph. Remnants from the hurricane brought heavy rain and flooding to parts of Texas over the weekend. 
"While heavy rains near the center of Patricia have decreased significantly as the cyclone has weakened over northeastern Mexico, the heavy rain threat ahead of the remnants of Patricia will increase this evening across northeast Mexico into coastal sections of Texas," the hurricane center said in its latest advisory. "This heavy rain threat will continue across the western Gulf coast through this weekend and spread into the central Gulf coast by early next week. These rains may produce dangerous flash floods."
Over the weekend, as many as 15,000 tourists evacuated from Mexico's coastal and central regions to avoid the storm, CNN reports. More than 4 million people were displaced in total, according to CBS News, as residents sought refuge in shelters to escape potential flooding. 
Photos from coastal and central Mexico show the aftermath of Hurricane Patricia: