Aziz Ansari Slams TV's Representation Problem: "Every Other Show Is Still White People"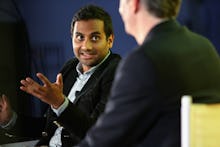 Aziz Ansari knows everyone loves Empire, but he still wants Hollywood to do better.
The actor appeared at Entertainment Weekly's EW Fest this past weekend to promote his new Netflix series Master of None, debuting on the streaming service Nov. 6. During his session, Ansari took the television and film industries to task for consistently failing on the representation front. Just because he and Mindy Kaling (The Mindy Project) have shows doesn't suddenly solve the problem, he said.
"Guess what? Every other show is still white people," Ansari said, according to Entertainment Weekly. "White people have every other show. It's still kind of unbalanced. I know there's Empire. That's there. But I think there were 10 black actors before Empire. ... It's long overdue."
Master of None will model its stories after much of Ansari's own struggle being an Indian-American actor in Hollywood. One particular episode, "Indians on TV," will feature what Ansari called "a montage of every Indian character that I remember seeing growing up," Entertainment Weekly reports. Most of them, sadly true to life, are gas station workers or otherwise minor characters. It ends on Ashton Kutcher in brownface.
It's all part of what Ansari called a troubling trend in television to minimize Asian and South Asian performers. "When they cast these shows, they're like, 'We already have our minority guy or our minority girl,'" he explained, according to Vulture. His argument is supported by numbers, which have revealed time and time again how few parts there are for minority actors in Hollywood.
"There would never be two Indian people in one show," he continued, Vulture reported. "With Asian people, there can be one, but there can't be two. Black people, there can be two, but there can't be three because then it becomes a black show. Gay people there can be two, women there can be two, but Asian people, Indian people, there can be one but there can't be two."
The film industry is no better, of course. Ansari dished about an audition he and his actor friend Ravi Patel had for one of the Transformers movies. Director Michael Bay's film called for an Indian call center employee with an accent. Ansari wouldn't do the accent. Patel did. Patel got the part.
Ansari said he gets why Patel did the accent. It's just a part of working as an Indian actor in the industry. "You have to work, and some people don't think it's a problem," he said, according to Entertainment Weekly. "You do it."
Watch select video from the fest below.