Starbucks Is Launching a Halloween Frappuccino — Here's How to Get It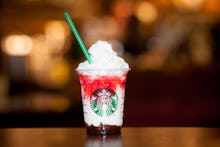 Coffee giant Starbucks is eschewing traditional Halloween fare for something more sophisticated — a vampire-inspired beverage complete with white chocolate, mocha, whipped cream and raspberry "blood." 
Dubbed the Frappula Frappuccino, the limited-time beverage — more like milkshake — will be available in U.S. stores starting Wednesday through Halloween, Oct. 31, and in Canada through Nov. 1, according to a press release from the company.
Here's what the spooktastic treat entails: White chocolate sauce, milk and ice blended together between mocha sauce. Raspberry syrup around the rim gives the look of blood oozing fresh from the mouth of a recently fed vampire. It's all topped off with whipped cream.
Fall's host of pumpkin-spiced and Halloween-themed products provide ample opportunity for retailers to boost seasonal profits, something Starbucks has been particularly good at. The company typically boasts its highest sales during fall, The Motley Fool reports. 
This isn't the first time Starbucks got into the Halloween spirit. During the 2014 Halloween season, the coffee giant released a limited-time Franken Frappuccino, named for Frankenstein, Food Beast reports. The drink involved green tea, white mocha, peppermint syrup, java chips and whipped cream.