Here's Your Fall Fashion Guide to Shattering the Patriarchy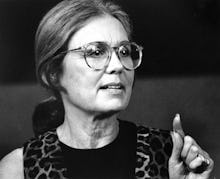 Women are expected to be sexy, but not too sexy. We're expected to be confident, but not too intimidating. We're expected to look feminine, but not too girly. All that shit makes getting dressed a minefield of expectations, many of which have been placed directly or indirectly by men. 
So why not use the fall shopping season as an excuse to reject the fashions that have limited women for centuries, and fads that happen to be rooted in socially-constructed gender norms?
Just take a cue from Gloria Steinem who, when asked by Lena Dunham what she wears to feel "like you're the queen of business and a rad bitch," replied ever-so perfectly: 
"[I like to wear] something that has a resonance from the past before patriarchy came along." 
We're not gonna argue with one of the leaders of '70s feminism here, are we? In honor of Steinem's new book, My Life on the Road, which debuts today, here's a fall guide to clothing that reject the influence of longstanding gender norms and lets you wear — and do — whatever the hell you want. 
Your feminist fall wardrobe may include:
Slip on some lingerie that resists gender norms!
Remember that episode of Sex and the City when Samantha hurriedly stumbles through an Atlantic City casino in an uncomfortable pearl thong? Yeah, that's not ideal. Sexy lingerie that makes a woman feel fabulous is one thing; lingerie that hobbles a woman in an attempt to get the perfect curves is another. 
Instead, we recommend a comfortable lingerie line that actually incorporates the best elements of male undergarments, like jock straps, and female underwear, like briefs. Recently released to feminist praise, designer Marie Yat's unisex line of cotton lingerie and loungewear "resists the male gaze" with simplicity and ease in mind. 
"Realizing I can never get what I wanted in the market, it felt right to start doing something I would like to wear everyday that was unconventional and comfortable to wear," Yat told Mic.
Plus, the lingerie line's lookbook shies away from the typical va-va-voom of a Victoria's Secret catalog in favor of a simple look that's as pretty as it is comfy. 
Try a dress with pockets so you can ditch the burdensome purse!
As Mic has reported (and will continue shouting from the rooftops), women really love pockets. One of the reasons for this affection stems from the feminist desire to be independent and lose the burden of a heavy purse.
To ensure you're free from the weight of a purse and ready to fight your way through the glass ceiling with both hands at the ready, independent retail companies like the Willary, Pivotte and Jolie Coquette are specializing in highly functional clothes with ample pocket room. 
"We love [pockets] because our lifestyles are changing," Yehua Yang, co-founder of Pivotte, a women's performance brand, told Mic in an earlier interview. "Especially now there's a lot of talk about women in the workplace and the idea of power and dress, women are becoming more active in their lifestyles and work schedules and mom schedules. We need pockets to survive all that." 
Embrace a "boyfriend" sweatshirt with actual feminist roots!
Sweatshirts are universally comfy as hell. But most of the time, they're looped into the category of "boyfriend" attire, along with loose flannels and baggy jeans. Meaning: Clothes that are far too unflattering for a woman to regularly have in her wardrobe, so she must be borrowing from her boyfriend. 
Which, of course, is bullshit. Of course women can wear sweatshirts and no, they need not be borrowed.
To reject the idea of "boyfriend sweatshirts" in full and turn it into a feminist fashion statement, we recommend one of these suckers with a historically feminist slogan on the front, courtesy of the hip online retailer Otherwild. The saying "The Future is Female" comes from a 1975 photograph of folk singer-songwriter Alix Dobkin in which she wears the slogan on a T-shirt. According to Refinery29, the original shirt was created by Labyris Books, the first women's bookstore in New York. 
As a ringing endorsement, indie rocker St. Vincent is already a big fan of the sweatshirt, and 25% of the proceeds go to Planned Parenthood. Steinem would approve.  
Pull on elastic-waist pants so you can indulge in holiday goodness sans Spanx!
We might have made gender equality progress; but as evidenced by the rise of Spanx and waist trainers, society has decided to recommit itself, unwaveringly, to small, nipped-in waists and hourglass shapes. That makes us sad, mostly because we love to eat. We deserve to eat. We work hard and come home hungry. 
So we say it's totally OK to really let that belly free. We're talking about elastic-waist pants here, people. 
Just think about sitting down for Thanksgiving dinner. There's the requisite feeling of determination ("I will not unbutton before dessert," you say as you plop a glop of potatoes onto your plate), then acceptance when you finally unbutton and maybe even dare to unzip those skinny jeans under the table. Well, the socially acceptable alternatives are wider-leg elastic pants. Worn with heels (we'll get to those later), you'll see they actually look chic. 
Grab some glasses so fucking big that no one knows whether or not you're wearing makeup! 
Every morning, after women across the nation brush their teeth and comb their hair, they put on makeup. While makeup can be fun and therapeutic (or even an art) for some, there are plenty of women who would tell you it's fairly annoying to have to slap goop on your face every single day just to be deemed socially acceptable. 
To fully avoid this habit, may we suggest wearing absolutely gigantic glasses that cover your face to an extent that no one even notices whether or not you're wearing makeup? You can actually thank those annoying hipsters for this one because this pair of glasses and this pair come free of any prescription. That's right, folks: They're completely fake and cost less than $20, which is probably less than your eye shadow-eyeliner-mascara regimen combined.
Think you'll look completely ridiculous? It's OK, Vogue has deemed the look "nerdy chic" and sung the praises of model Emily Ratajkowski's tortoise-shell specs. You'll fit right in at your local Amber Rose book signing.
Fight your office's patriarchal air conditioning with the most gigantic scarf you can find!
Offices are cruelly cold. Now that it's been proven the arctic temperatures of your office are because of men, it's time to wage war. They keep lowering the temperature, we keep on making our scarves bigger and bigger. We're talking obscenely large and annoying. We want to make a statement. 
As far as choices for the woman looking to really stick it to these Captain Colds, there are plenty. Look at any trendy online store today, from Urban Outfitters or ASOS, and there's a whole assortment of blanket scarves large enough to cocoon your entire body. 
We assume they'll turn on the heat once we start bringing quilts to the office. 
Last but not least, get some flats that say what you want to say to heels!
Yes, many women confirm that high heels make them feel confident and great, and there's no arguing that. But then there are the women who ache at the sight of them. The women who see them as torture devices. Even Patron Saint Rihanna has called them out, saying, "I hate partying... I don't like standing in my heels for hours." 
And you know that if RiRi has had enough, we have too. 
So we say it's totally OK to ditch those "fuck me heels" for some "fuck you flats." Literally. In the form of a simple black velvet slipper, these cheeky flats from YRU announce your inner dialogue while also probably being wicked comfortable. Just think of how quickly you can run away after setting the patriarchy ablaze in these babies. 
Now that you've got on your gender-free lingerie, your pro-women sweatshirt, your elastic-waist pants (which hopefully have pockets), your huge-ass glasses, your fuck-you flats and your ginormous scarf, we say you're pretty set to take on the patriarchy. 
Go forth, powerful women across the world, and dress however you damn well please this season.